Champions for Health: NHS staff to 'lead by example'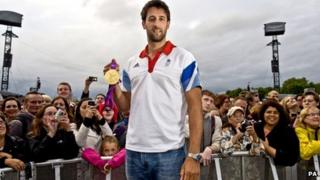 A campaign has been launched to encourage 1,000 NHS staff in Wales to lead by example and become fitter.
They will be asked to commit to two lifestyle changes such as healthy eating, safe drinking or losing weight.
Champions for Health aims to encourage patients and the public to follow suit.
It is backed by Welsh sporting stars, including Olympic gold medal rower Tom James. Among the first to sign up is Swansea paramedic Richard Hook, the father of rugby player James Hook.
The 55-year-old, who has agreed to take physical exercise and eat healthily, said: "Working the hours that I do, I often find it hard to eat healthily and I really want to get back to the weight I was a few years ago."
Progress report
Public Health Wales chief executive Bob Hudson said: "Champions for Health is a fantastic opportunity to build on the energy and excitement created by the Olympic Games, encouraging people to lead fitter, healthier lifestyles.
"By leading by example, NHS Wales' staff will not only improve their own health, but act as ambassadors to their patients and the public on the importance of leading a healthy lifestyle and the benefits it brings."
The campaign is led by the directors of public health in Wales and the 1000 Lives Plus national programme.
Every health board and NHS trust in Wales is backing the campaign and will be encouraging staff to sign up by registering on the Champions for Health website.
Staff will be asked to commit to two of five lifestyle changes: drink safely; take regular exercise; eat healthily; stop smoking; and work toward a healthy weight.
'Real difference'
Each person will be asked to report progress online at regular intervals throughout the six month period.
Successful Welsh sporting stars are backing the campaign, including double Olympic rowing champion Tom James and Wales' rugby legend and commentator Jonathan Davies.
James from Wrexham, who won gold in the men's coxless four in London 2012, said: "Encouraging health service staff to become healthier by making some key lifestyle changes and then motivating the general public to do the same could make a real difference."
The campaign will be followed by a training programme to encourage staff to become more skilled and confident in providing advice on healthy lifestyles at every opportunity.
Champions for Health supports the Welsh government's five year strategy, Together for Health, which emphasises the need for everyone in Wales to take greater responsibility for their health.
Dr Chris Potter, senior lecturer in public health at Cardiff University, said: "Good health is vital to ensure we have a prosperous and sustainable Wales.
"This is a powerful opportunity for our NHS staff to lead from the front by making lifestyle changes that will improve their health and influence others to do the same."