Eileen Beasley: Welsh language campaigner dies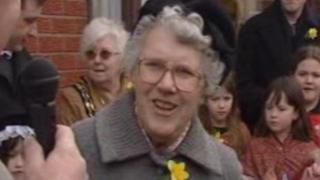 Tributes have been paid to a woman credited with leading the way in fighting for the right to use Welsh in the 1950s.
Eileen Beasley, who died at the age of 91, refused to pay council rates until she received a demand in Welsh.
Many of her possessions from the family home in Llangennech near Llanelli were removed by court bailiffs as a result.
She has been described as the "mother of direct action" by Welsh language campaigners.
Teacher Mrs Beasley and her husband Trevor took on the fight with the Rural District Council of Llanelly after it refused to issue them with a bill in the Welsh language.
The language society said at the time 90% of the local population near their home spoke Welsh, as did councillors on the local council, and council officials.
When a letter arrived from the council, Mrs Beasley wrote to ask for it in Welsh.
It said the couple appeared before magistrates dozens of times, and insisted the court proceedings should be in Welsh.
Confrontation
Former chair of Cymdeithas yr Iaith (Welsh Language Society) Angharad Tomos said Mrs Beasley's fight "persevered for a decade at a time when such action was unheard of in Wales."
"Alone, the Beasleys lit the flame of hope," she added.
The society said the family's stand was the first such act of "civil disobedience" in Wales in support of the Welsh language.
The family won their battle for a Welsh language rate demand in 1960.
The couple can be heard speaking about their experiences on a Welsh-language BBC resources for teachers web site.
Mrs Beasley recalls the time saying: "The bailiffs came 10 times. In 1959, in particular, they cleared the parlour of the carpet, the piano, the oak bookcase, and a mirror. Some of them were wedding presents."
Mr Beasley added: "We'd started the fight so we had to see it through."
Cynog Dafis was a family friend, and a founding member of the Welsh Language Society.
He said the Beasley's stand had been an "extraordinary confrontation" with the district council.
Mr Dafis said the couple had won their case "partly because they marshalled support from here, there and everywhere".
He added that Saunders Lewis in his "fate of the language" radio lecture used the couple as an "example or model for the pattern of civil disobedience that he proposed in response to the almost entire absence of official recognition that Welsh then had".
"She was a remarkable kind of person... Welsh rural radicalism at its most progressive.
"An unyielding supporter of Welsh Nationalism," he said.