My Olympics: David Davies, MP and PC, on positive GB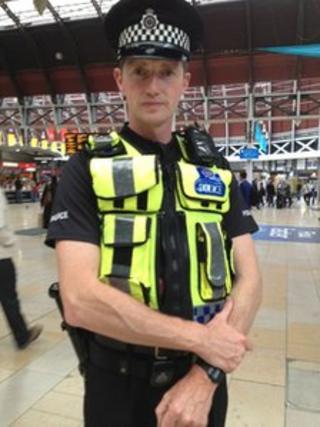 In the fourth of our series on the Olympics experience, Monmouth MP David Davies, also a British Transport Police special constable, says he has never known a more "positive" Britain.
"The Olympics was just great. You really did see London and Britain at its best.
It left me absolutely buzzing. I got to speak to people, really happy people, from all over the world.
Everyone was just chatting to each other: that never happens in London.
It's been such a positive thing to see people at their best.
All the special constables in London received a text asking them to come in and do the Olympics. I would have volunteered to do it even if I hadn't been asked.
I do think it's important that MPs have a handle on things. To be honest, there was a lot of standing around but... helping people is very important.
It was like the whole of London came out for the Olympics and they were happy just to experience this.
There were a few pickpockets around and you can spend a lot of time dealing with that.
Somebody threatened to kill someone but he was drunk.
I cannot praise the organisers and volunteers enough. I like that I was playing a small part in the Olympics.
And the thing is, everyone else seemed happy enough to be a part of it, even if they didn't have tickets.
It was like the Royal wedding. I didn't actually see Prince William and Kate but it was the atmosphere; one of those rare incredible occasions.
Cup of tea
It might not be The Sweeney, but we did do some investigative work.
A really good example of what we've been doing and how pro-active we were was when a French student approached us and she was completely lost, didn't really speak English and so couldn't tell us where she was staying.
She didn't have a phone so we couldn't call her teacher.
So we flicked through the photos on her camera and told her to tell us when there was a photo close to her hotel.
Doing this we managed to narrow down which hotel she was staying at, took her back to the station, gave her a cup of tea and reunited her with her group."
On Friday, in the final part of My Olympics, Wrexham firefighter Steve Roberts, who led a team testing athletes in the Olympic Stadium for drugs, will give us his take on London 2012.