Heart disease: Drive to reduce deaths in Wales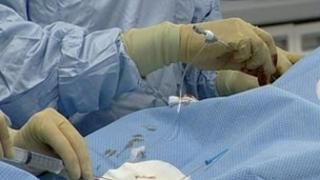 A new plan is being launched to help cut the 4,700 deaths a year from heart disease in Wales.
It includes looking at lifestyle, medication, faster detection, easier access to GPs and pharmacies, and more effective treatment.
The Welsh government says heart disease deaths are falling, but the death rate is still higher than England and it remains one of Wales' biggest killers.
Health Minister Lesley Griffiths is launching a three-month consultation.
The cardiac delivery plan is part of a major overhaul of the NHS called Together for Health.
Measures by 2016 will include new health checks for the over-50s and a pledge to redouble efforts on awareness of exercise, diet and smoking issues.
Ms Griffiths said: "There have been significant improvements to cardiac care in Wales in recent years.
"While fewer people die prematurely from heart attacks in Wales now, it still remains one of Wales' biggest killers.
"We must do more to prevent avoidable cardiac disease, identify those at risk and manage that risk well. Where cardiac disease does occur, we want to focus on prompt diagnosis and the best treatment."
The death rate from heart disease, although falling, remains higher in Wales than in England, although lower than in the north west and north east of England, areas with similar social-economic issues.
Dr Chris Jones, a cardiologist and medical director of NHS Wales, said coronary heart disease was a largely preventable condition, which increased in risk with age.
"That risk can be reduced by simple lifestyle changes, such as not smoking, drinking alcohol sensibly, exercising regularly and eating a healthy, balanced diet to reduce the risk of obesity - a major contributory factor increasing the risk of diabetes and eventually cardiac disease," he added.
Prof Peter Weissberg, medical director of the British Heart Foundation, said he expected the plan to outline how the Welsh government would tackle early prevention and care of heart disease.
The consultation process will end on 26 October.