Hywel Dda Health Board defends NHS reorganisation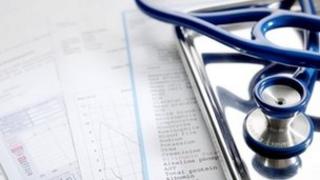 A health board has defended its proposals to reorganise NHS services in mid and west Wales.
Some community groups and campaigners have criticised plans that could result in three community hospitals closing in Mynydd Mawr, Tregaron and Aberaeron.
Hywel Dda Health Board says £40m will be invested in new services.
The leader of the Conservatives in the assembly said the cuts were the result of Labour cutting health budgets.
The health board announced its proposals on Monday. Among the changes will be the development of cardiology services in Glangwili Hospital, and a paediatric high dependency unit will provide a "comprehensive higher level sick children's service".
The board covers Ceredigion, Carmarthenshire and Pembrokeshire, and an orthopaedic "centre of excellence" is planned in the south of the area.
"Our vision is quite simple - to provide integrated health care with 80% of NHS services provided locally, through primary, community and social care teams working together," said a spokesperson.
"This will mean access to diagnostic tests, such as X-rays, blood tests and scans, and also a range of outpatient and specialist services that were previously only available in hospital."
There are also proposals for new centres in Aberaeron, Carmarthen, Cross Hands, Crymych and Whitland.
The board says mental health services will also be extended and expanded with a psychiatric initial assessment and intensive care unit in Carmarthen.
It defended its plans to change the way the emergency department is run at Prince Philip hospital as it said that about 80% of attendances were categorised as minor injuries.
Andrew RT Davies, the leader of the Conservatives in the Welsh assembly, said the changes would "sadly see a 20% reduction in beds, the A&E unit closing at Prince Philip and three hospitals closing".
He blamed the changes on the Welsh government for a "£534m cut in funding" to the NHS.
"They have also failed to attract key medical staff. Both these situations can be reversed, but the Welsh government is not willing to do that."
'Long overdue'
William Roberts, of the aBer action group, set up in response to Hywel Dda Health Board's plans for Aberystwyth's Bronglais Hospital, said services previously under threat would now remain at the hospital.
"We are pleased that services at Bronglais Hospital which were under threat some months ago, now appear to be secure, thanks to the people of mid Wales who went to Cardiff to protest - over 850 of them - and the hospital consultants who were prepared to write to the minister," said Mr Roberts.
"We are, however, sorry that this would appear to be at the cost of services at Llanelli. We do not think that this is a proper way to run a health service.
"The services threatened were general surgery, accident and emergency, trauma and orthopaedics, and chemotherapy, all of which will now be delivered at Bronglais Hospital."
Mr Roberts added that Tregaron and Aberaeron hospitals should remain open.
Health Minister Lesley Griffiths has said that change in the health service is necessary and "long overdue".
Last month she survived a vote of no confidence after opposition parties accused government officials of trying to influence the contents of an independent report by a leading health academic.
The report by Professor Marcus Longley of the University of Glamorgan said some NHS services were in danger of collapsing without reforms.