Hywel Dda Health Board to unveil changes to services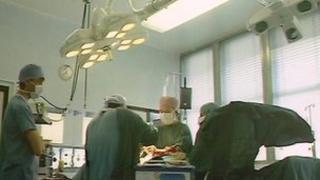 Plans for significant changes to the NHS in mid and west Wales will be announced later amid claims patient and staff concerns have been ignored.
Hywel Dda Health Board says it must reshape its services for Ceredigion, Carmarthenshire and Pembrokeshire.
A consultation document is expected to propose centralising some specialisms at Glangwili Hospital in Carmarthen.
The board says the current structure is unsuited to cope with an ageing population and a shortage of doctors.
It claims that without centralising services such as accident and emergency, cancer care and specialist surgery it will not be able to adhere to professional standards for care.
Managers are likely to say that the proposals will enhance community-based care in west Wales.
Chris Martin, chair of Hywel Dda Health Board, said the changes would help it deliver a "world class" health service.
"The proposals we will present will demonstrate that any new or changed services are fit for purpose and for the future, person-centred, high quality, modern, safe and affordable," he said.
Mr Martin also insisted the board had listened to local concerns in drawing up the plans.
"The formal launch of the 12-week consultation follows extensive discussion with our clinicians, over two years, and an unprecedented listening and engagement exercise, held earlier this year with local people, staff and stakeholders."
"We have reflected on these discussions and refined and shaped our proposals in light of what we heard," he added.
Hywel Dda is also under pressure to make significant financial savings.
Its own analysis showed that at the end of June it was almost £4m in deficit against its plan to break even at the end of the year.
Last year all Welsh health boards received extra financial assistance, at various stages, by the Welsh government to help balance their books.
'No extra money'
Health Minister Lesley Griffiths insists no extra money will be available this year.
Campaigners say the proposals will lead to a downgrading of services in a number of hospitals.
Several demonstrations have been held at the Senedd in Cardiff Bay by groups who fear key services will be cut at Withybush General Hospital in Haverfordwest, Bronglais Hospital in Aberystwyth at at Llanelli's Prince Phillip Hospital.
In May campaigners from Llanelli submitted a petition of 26,000 names to the assembly's petitions committee.
Brian Hitchman, chair of the SOSSPAN, the campaign to save services at Prince Philip Hospital, says this is "the last chance saloon" for the hospital.
"The question is, are they going to listen to us? Given the track record of the health board so far, the answer is no," he said.
Some health service staff have also expressed concern.
'Lost confidence'
In February, senior medical staff at Bronglais Hospital, Aberystwyth, wrote to Ms Griffiths saying they had lost confidence in the health board.
The letter was signed by a majority of consultants and specialists at the hospital.
Hywel Dda said it would not consider unsafe solutions.
But retired GP Dr William Roberts, chair of the aBer campaign to protect services at Bronglais, argues that a shifting services from Aberystwyth to Carmarthen would result in increased risks due to a lack of provision in mid Wales.
Health boards across Wales have been drawing up plans to re-shape their services following the publication in 2011 of 'Together for Health' - the Welsh government's five-year vision for the NHS.
Ms Griffiths has insisted that real change in the health service is necessary and "long overdue".
Last month she survived a vote of no confidence after opposition parties accused government officials of trying to influence the contents of an independent report by a leading health academic.
The report by Professor Marcus Longley of the University of Glamorgan said some NHS services were in danger of collapsing without reforms.