The Welsh Language Society: 50 years of campaigning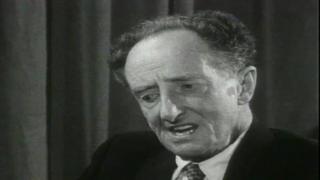 Members of Cymdeithas yr Iaith Gymraeg (The Welsh Language Society) will cut a cake to mark the organisation's 50th birthday on Saturday. BBC Wales political reporter Daniel Davies looks back on the society's formation.
One night in January 1962 a student called Gareth Miles was cycling home from a party along the prom in Aberystwyth with a girl sitting on his handlebars.
A passing policeman didn't like what he saw and a court summons followed.
Had Mr Miles attended the hearing a fairly innocuous misdemeanour would have ended there.
But the summons was written in English at a time of growing unease about the future of the Welsh language.
A campaign was under way to stop a community in the Tryweryn Valley from being flooded to create a reservoir for Merseyside. In the preceding decade the Beasley family in Llanelli had lost their possessions to bailiffs because they wouldn't pay their English-only rates.
It was in this atmosphere that Mr Miles refused to attend court, earning him a night in a cell and a fine of 17 shillings and sixpence.
It set the pattern for a campaign of civil disobedience by a group of young people who heard a radio lecture in February 1962. It was delivered by Plaid Cymru founder Saunders Lewis who argued Welsh would disappear without revolutionary means to save it.
On Saturday, Mr Miles, now an author in his 70s, will be at the National Eisteddfod in the Vale of Glamorgan to mark the 50th anniversary of an organisation he helped found in the wake of that lecture.
Some saw the members of Cymdeithas yr Iaith Gymraeg (The Welsh Language Society) as pioneers. To others, they have been a nuisance.
The society was formed after a motion was passed at a Plaid Cymru summer school in Pontarddulais on 4 August 1962.
In the years since, hundreds of its members have been to prison for acts of non-violent direct action.
They were notorious for vandalising English-only road signs, scaling television masts, hounding politicians, stopping traffic and occupying offices.
'Battles'
Mr Miles says: "Once I heard the radio lecture I knew I had to do something because of Saunders Lewis's moral authority.
"We felt that Plaid Cymru had been fighting electoral battles and losing them, which didn't do anybody any good.
"So we decided let's win a few battles and win a few small battles."
Others in Plaid were committed to behaving like a constitutional political party and did not agree with their tactics.
Lord Elystan Morgan went on to become a Labour MP and cross-bench peer, but at the time he was a young solicitor and a Plaid member.
"It was a face of nationalism that was unacceptable to many people who would otherwise have been willing to support Plaid Cymru," Lord Morgan said.
In the intervening years his attitude has changed. Now he says the society should be "saluted" for its contribution to making sure officialdom recognised Welsh.
But campaigners still have a fight on their hands if they want Welsh to continue to be spoken, he added
"It's a much more difficult battle that the other one," Lord Morgan said.
"The other was a necessary battle, but this is the battle that decides whether the language lives or dies."
What about those who have been on the receiving end of Cymdeithas's activities?
Wales Office minister David Jones had his constituency office in Colwyn Bay plastered with Cymdeithas posters last year, around the time he was meeting its members to hear their complaints about UK government plans to change the way S4C is funded.
'Fear'
"What I found disturbing was that my staff turned up in the morning and found the office had been defaced and they didn't know what lay in wait inside and were immediately put in fear," the Clwyd West MP said.
There was anxiety across the political spectrum about the safety of the language at the time of Cymdeithas's formation, he added.
"To that extent an organisation campaigning for the future of the Welsh language is not only legitimate, but desirable," he said.
"But it's a question of how you achieve your ends."
As for the organisation's apparent fondness for targeting Conservative MPs over the years, he says S4C and the 1993 Welsh Language Act were both brought about by Tory governments.
"The Conservative Party has done more than any other party for the Welsh language."
Cymdeithas's current chairwoman, 25-year-old Bethan Williams, cites the creation of S4C, Welsh language legislation and the provision of bilingual education as victories for the campaign.
The society - which has four full-time members of staff and is funded by the contributions of members - lobbies ministers in Westminster and in Cardiff Bay, but it remains a "radical movement", she said.
She said the last 50 years had created a "strong foundation" - with bilingual services now available in many walks of life - but Cymdeithas has not reached the end of the road in its campaign over the Welsh language.
"Is it going to be a language of education and to do with only traditional Welsh culture or is it going to be a natural language of our communities?"