National Eisteddfod: Cuts as Vale of Glamorgan event starts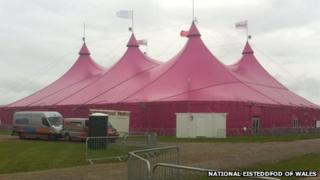 Organisers of the National Eisteddfod of Wales say they have had to make cuts to this year's event because of financial pressures.
The eight-day cultural festival is returning to the Vale of Glamorgan after 44 years, kicking off in Llandow with a concert on Friday evening.
Organiser Hywel Wyn Edwards said some buildings would be smaller, but there would be no changes to activities.
The eisteddfod council said previous events had lost money.
Mr Edwards said he hoped visitors would not notice the cuts during the eisteddfod, which runs until 11 August.
He said there had been "trimming" on buildings, with such actions as changing seating and lay-out in the pavilion.
"We have been very very lucky here - we have a large hard standing area on the site that saved us some money on trackways and what have you, and one or two of the buildings have been made smaller.
"But I don't think anybody will realise. The activities will be exactly the same, and more if anything."
Last year the eisteddfod, which moves around annually, attracted 149,692 people to Wrexham.
However, in April, the eisteddfod council said it had made a loss of £90,000 and that there would be less money available for the eisteddfod on its return to the Vale of Glamorgan.
It was last held in the area in Barry in 1968 and this time makes its home at Llandow, near Cowbridge.
The Welsh government is providing £506,400 of financial support to this year's event and the Vale of Glamorgan National Eisteddfod executive committee has raised over £300,000.
First Minister Carwyn Jones who will be honoured by the Gorsedd of the Bards during the event, said the eisteddfod was important for the nation.
He said the Vale had seen a substantial increase in the number of Welsh speakers in recent years, largely due to Welsh-medium education.
"The challenge, however, is to go one step further and provide opportunities for children and young people to enjoy using Welsh outside school," Mr Jones added.
The event's honorary president, Euryn Ogwen Williams, said there were a number of highlights this year, including two lectures.
One is on Tuesday (15:00 BST) at the Studio, when Rhodri Talfan Davies, director of BBC Cymru Wales, addresses the subject "Broadcasting in the digital age - challenge or opportunity?"
On Thursday (14:00 BST) in the Pagoda, Ian Jones, chief executive of S4C, will give the Owen Edwards Memorial Lecture, outlining his vision for the channel over the next few years.
With so many people expected to attend organisers have put up detailed directions on how to reach the site by public transport and car.