Health staff transfusion training at Swansea University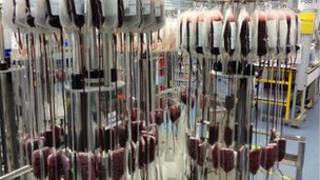 Nurses and pharmacists in Wales are being trained to take the place of doctors when a patient needs a blood transfusion.
Swansea University has developed a course to qualify health professionals to authorise and conduct transfusions.
Currently only doctors are allowed to direct the use of some 100,000 blood donations and transfusions in Wales.
The university said they hoped it would help cut waiting times for patients needing blood.
Ten nurses and two pharmacists have completed the course, devised with the help of the Welsh Blood Service.
The nurses work in areas such as paediatric intensive care, renal, haematology, and the teenage cancer unit.
A transfusion is usually given through a plastic tube inserted into a vein in the recipient's arm.
It can take between 30 minutes to four hours, depending on how much blood is needed.
They can be given to replace blood lost during major surgery, childbirth or a severe accident or to treat anaemia, a condition in which a person has low levels of red blood cells.
Patients with inherited blood disorders, such as thalassaemia or sickle cell anaemia, are also often given blood transfusions.
'Cut time'
In a statement, Swansea University said: "Training other health professionals to authorise the procedure can help cut the time patients have to wait.
"In addition, many patients who need transfusions often know their nurse or pharmacist better than they know their doctor."
Megan Rosser, director of continuing professional development at Swansea University's College of Human and Health Sciences, said: "If our patients need blood, they can now get it straight away; they don't have to wait for the on-call doctor to come and write it up."