Betsi Cadwaladr, Bala Crimean War nurse, given memorial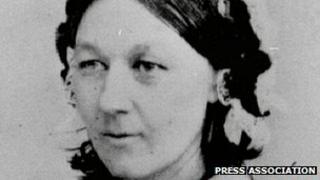 A memorial service is to be held for a Welsh Crimean War nurse who worked with Florence Nightingale and was later buried a pauper.
Betsi Cadwaladr, from Bala, north Wales, has been adopted as a nurse heroine by the Royal College of Nursing (RCN) in Wales for her work.
Her name has also been taken by Wales' largest health board.
Both organisations are behind Thursday's service at Abney Park cemetery, London, where she is buried.
Elizabeth Cadwaladr was born in 1789 as one of 16 children and the daughter of a Methodist preacher, according to RCN Wales' biography of her.
She moved to Liverpool aged 14 and spent the early part of her life travelling around the world before eventually returning to London.
It is said she changed her surname to Davis as Cadwaladr could not be easily pronounced by English people, and her father's name was Dafydd.
After hearing of the conditions suffered by the British soldiers wounded in the Crimean War (1853-1856), Cadwaladr joined the military nursing service and was posted to a hospital in Scutari, Turkey, run by Nightingale.
After working there for many weeks, making progress against the unhygienic conditions and bureaucracy, Cadwaladr, aged over 60, moved nearer to the frontline at Balaclava, and fell out with Nightingale.
In 1855, due to the privations she suffered at Balaclava, she was forced home with cholera and dysentery, and died five years later in London.
Now her life and work will be celebrated in the service, and a memorial stone and bench will also be dedicated to her memory.
The day of events is the brainchild of Prof Donna Mead, dean of the faculty of health, sport and science at University of Glamorgan.
'Worked tirelessly'
"Betsi Cadwaladr and Florence Nightingale were from different traditions," said Prof Mead, "with Nightingale respecting rules, regulations and bureaucracy and Betsi responding instinctively to the needs of injured soldiers as they arose (regardless of the regulations).
"In the end Nightingale came to respect the way in which Betsi worked tirelessly in order to provide care for her patients."
Prof Mead said Cadwaladr had been over 60 years old when she went to Balaclava and that her hard work there, together with the privations she suffered in the field hospital there, had contributed to her death.
"Betsi was buried a pauper," said Prof Mead. "The ignominy of such a burial is heartbreaking especially as Betsi paid such a high price for her relentless hard work and dedication at Balaclava. It cost her her health.
"On Thursday Welsh nurses will restore to Betsi, and those buried with her, the dignity which we all take for granted to have one's life acknowledged, remembered and celebrated."
Betsi Cadwaladr University Health Board, based in north Wales, has raised funds for the memorial stone and the RCN in Wales has raised funds for the bench.