Web funerals for absent mourners at half Wales' crematoria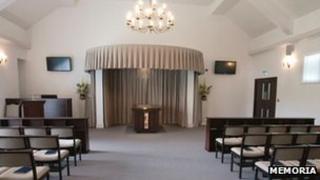 There are few of us who would not attend the funeral of a close relative or good friend in person if we could.
But crematoria are increasingly offering the chance to pay our last respects through online viewing.
It is intended for those mourners unable to attend the service, possibly because of their health or the distance they would need to travel.
Today, almost half Wales' crematoria have had webcams installed to stream funerals over the internet.
Gwent Crematorium was the first and since then more than 50 services have gone online throughout Wales.
While officials say they are welcomed by the bereaved and clergy, there are some concerns that some who view at a distance will be affected by the loss of intimacy with other mourners.
Crematoria managers say online viewing is used by those who are abroad or too old or ill to make a funeral.
Thornhill crematorium in Cardiff is the latest to offer live funeral streaming over the internet having installed the equipment last month.
Paul Dundon, manager and registrar at Gwent Crematorium, said the technology had been very well received both by bereaved families and members of the clergy.
"We have had services that have gone very locally where people are perhaps in nursing homes who wouldn't be well enough to come to the building," he said.
"And we have streamed worldwide - to Canada, Australia, and other places.
"Families can be fragmented and people live all over the world these days. It may be they have the opportunity of joining in with the service which helps them through their bereavement.
"With things like iPads it mean it's becoming much more accessible for people."
He said there had been "no resistance at all" from members of the clergy.
Crematoria managers insist the internet service is extremely secure. Families are given a special password that ensures a funeral can be viewed on their websites only by those given it.
The service is often left online for up to seven days afterwards and can be downloaded onto DVD if requested.
The managers insist they do everything possible to ensure a quality internet service using the highest broadband speeds possible.
However, Owen Rees, manager at Aberystwyth Crematorium, said technology could not always be relied upon.
"At the moment our computer system is too unreliable for us to offer the internet services - we need a better connection. It's just the location we live in," he said.
'Genuinely helps'
Jamieson Hodgson, business development manager at Memoria, which runs the Cardiff and Glamorgan Memorial Park and Crematorium in the Vale of Glamorgan, said the service was helpful for people but was still quite rare.
"I don't think it will overtake traditional services. I think people will do everything in their power to be at a funeral service."
The chapel at the crematorium has a video camera permanently on the wall if internet filming is needed.
Humanist celebrant Richard Patterson, the former director of bereavement charity Cruse Cymru, said he would happily use the technology if it brought comfort to a family, but he had concerns.
"On one hand it brings people who are in distant places into the process," he said.
"But on the other hand it cuts them off from the more intimate involvement before and after the service. They can't join in the hugging and sharing of anecdotes at the party afterwards.
"So I wonder if it might have a more depressing effect than if they'd not been involved at all."