£1m council newspapers: Welsh government to review code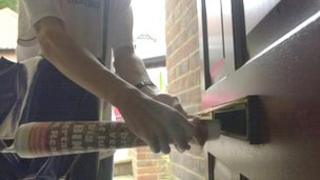 The code allowing Welsh councils to produce free newspapers is to be reviewed, as figures show more than £1m is spent publishing them each year.
Local paid-for newspapers claim council freesheets are unfair competition.
Of Wales' 22 local authorities, 17 publish a newspaper, one publishes online and four have no newspaper.
The Welsh Local Government Association says many find council newspapers useful and there is no evidence for the anti-competition claim.
Publications being looked at are the ones delivered free by councils to householders at various points throughout the year.
The figures obtained by BBC Radio Wales show a wide variation in the number of editions produced each year, distribution numbers and the cost.
Ceredigion, Monmouthshire, Neath Port Talbot, and the Vale of Glamorgan do not produce a newspaper, whilst Pembrokeshire produces an online newsletter only.
In Cardiff the Capital Times comes out 13 times a year. In Conwy the Conwy Bulletin, and on Anglesey the Newyddion Mon/Mon News, are sent out twice a year.
The BBC Wales figures were obtained from 17 local authorities which showed they spend just over £1m, covering everything including staffing, printing, distribution and translation.
Groups like the Newspaper Society say they are concerned council newspapers can be competing aggressively when it comes to advertising.
The newspaper industry magazine the Press Gazette has also warned that council freesheets are taking revenue away from independent local newspapers.
Linda Roberts, executive editor of the Caernarfon Herald and North Wales Weekly News series, told BBC Radio Wales that she would like to see councils putting their newsletters inside local newspapers, thereby supporting local businesses.
'Propaganda'
"A million pounds is an awful lot of money, especially when we are seeing councils making cuts in all kinds of things like care of the elderly, social services, leisure services," said Ms Roberts.
"I would also like to know what measures they have in place, that how many people are actually reading these newsletters and what reaction they are getting to them.
"I think the majority of them end up in the bin, to be honest."
Ken Skates, Labour Assembly Member for Clwyd South, said taxpayers' money was being wasted on what he termed "council propaganda".
"I'm totally in support of councils making sure they get their information across but they should do it through the form of press releases with the local press which they've always done, through Twitter, Facebook, their own website pages.
"These information leaflets are masquerading as independent local papers with no editorial independence from the corporate and political leadership of the council, no critique of services, no right to reply and no adverse publicity. That's bad for democracy."
But Peter Black, Welsh Liberal Democrat assembly member for South Wales West, a Swansea councillor, and also the Party's Heritage and Media spokesperson, defended the councils' publications.
"The councils are actually saving people money here, not wasting money," said Mr Black.
"Councils have to publish a lot of statutory notices and the councils are saving a fortune by putting those statutory notices into their own newspapers rather than having to pay to put them in the local paid-for newspaper."
He added: "I'm quite shocked that the Welsh government are proposing to review this code."
Sponsorship and advertising
There is no set way that advertising is used by Welsh authorities, however as some freesheets, such as Wrexham's Connect, use sponsorship and advertising to fund the publication, others make no money on adverts.
The code dates back to 2001 and gives guidance on everything from content and style to advertising.
In England, UK Communities Secretary Eric Pickles wants to ban local councils from publishing newspapers more than four times a year.
The Welsh government has said it will review the code during this assembly term, but it is understood that Local Government Minister Carl Sargeant, will not going as far as his English counterpart.
The Welsh Local Government Association said many council taxpayers found the papers useful.
It pointed to a recent parliamentary committee report which said there was no evidence that the publication were competing with traditional newspapers in any way.
"Indeed they were initiated in the first place because central government required councils to locally publish performance information in a non-commercial local paper," it added.