Cats Protection rehoming problem, with economy a factor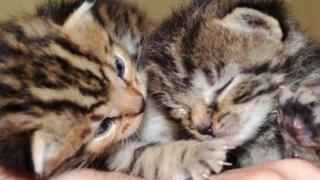 The number of kittens and cats needing homes has risen to unprecedented levels, say animal rehoming charities.
Cats Protection's Bridgend adoption centre says it has 200 and a list of more than 1,390 waiting to come in.
An RSPCA spokesman said the economic crisis was a factor behind the problem, and owners may be neutering pets less.
Centre staff describe the situation as heartbreaking, with owners increasingly unable to look after pets for a variety of reasons.
RSPCA Cymru says it too has seen an increase.
"We are desperate because there is simply no more room," said Sue Dobbs from the Bridgend centre.
"I've been working here 13 years and it is the worst I've ever seen it.
"Normally we'd rehome 100-160 cats a month, so that makes room for others to come in.
"But in May we only rehomed 57, and in June 77, so with the rehoming slowing down we cannot take other cats in."
Compounding the problem is the fact that owners are not getting their pets neutered, even when they are eligible for vouchers to pay for part, or all, of the cost.
"It's very frustrating when people don't use the vouchers. Last year we handed out 1,250 and of those 25% weren't used."
"This year people are just not adopting cats. With so many losing jobs it is understandable though - you have to strike a balance.
"It is heartbreaking for the staff, and I can't see a way out of it."
The Cats Protection centres in Cardiff, Gwent and Swansea are also struggling, she added.
RSPCA Cymru said it too had seen a significant increase in the number of cats, particularly very young kittens, being abandoned by their owners in recent weeks.
"They are frequently stuffed into cardboard boxes and left to the mercy of the general public.
"These kittens are often so young that their eyes are yet to open properly and need to be fed.
"Such cruelty jeopardises the welfare of these cats and places a very great strain on our resources," said a spokesman.
The problem of unwanted cats and kittens affects the whole of the UK.
"The number of animals being abandoned is a growing problem, as is the economy, but it's difficult to say there's a definite cause and effect," said a spokeswoman for the RSPCA at a UK level.
"However, as people have less money they may not be neutering their animals and as cats have large litters, over time it can become overwhelming.
"The economic climate is a factor," she added.