Newport's Llanwern waste incinerator plan rejected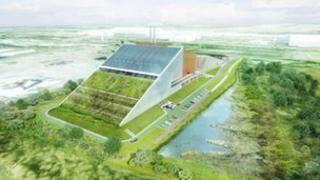 Plans to build a large waste incinerator on land previously used by Llanwern steelworks have been rejected by Newport council.
A special planning committee voted eight to one against the proposals.
Veolia Environmental Services wanted to build the processor, which would have burned 250,000 tonnes of waste every year.
A report to the council recommended the plans, which have been opposed by campaigners, should be approved.
The plant was part of plans by five south Wales councils to find a way of dealing with waste that cannot be recycled.
Four proposals were initially shortlisted by the scheme, known as Prosiect Gwyrdd (green project), but only Llanwern and another proposal at Splott in Cardiff remained.
A Prosiect Gwyrdd spokesman said: "The Project has two competitive bids competing for this vital procurement.
"Final tenders are expected shortly and a preferred bidder is expected to be indentified early 2013.
"In conventional projects, in other parts of the UK, planning isn't usually submitted until after contract award, so this decision doesn't alter the competitive nature of the procurement."
'Victory'
Pippa Bartolotti, a spokeswoman for the Stop Newport and Monmouthshire Incinerator Campaign, said waste should not be burned.
Ms Bartolotti, leader of the Wales Green Party, described the decision by Newport council on Wednesday as "a victory for democracy and local community activism."
An environmental group had claimed that nationally important habitats would be threatened if the incinerator was built.
Gwent Wildlife Trust said the risk to wildlife at the Gwent Levels and Severn Estuary would be too high.
Veolia Environmental Services, the company is behind the Llanwern plan, has previously pointed out the proposed site had a history of industrial use.
The plant would have provided heat and generated electricity for the neighbouring steelworks, as well as 20MW electricity, and is well connected to the existing road network.
The Welsh government has set waste targets for local authorities.
By 2025, a minimum of 70% must be recycled and composted, while only 5% can be sent to landfill.