Employment tribunal fees condemned by Theo Huckle, counsel general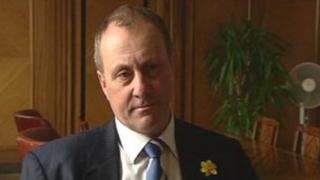 A decision to charge up to £1,200 for bringing employment tribunals will deny people "access to justice", claims the Welsh government's chief legal adviser.
Counsel General Theo Huckle QC said the move by the UK government would deter many applicants with good claims.
There is currently no fee for applying to bring a claim to a tribunal.
UK justice minister Jonathan Djanogly said it was unfair for the taxpayer to foot the bill for tribunals, which cost more than £84m a year.
Mr Huckle opposed the plans earlier this year during a consultation process and wrote to Justice Secretary Ken Clarke.
The decision to introduce the fees was announced on Friday.
Trade unions branded it a "disgrace".
Justice 'undermined'
Business groups welcomed the move, but complained that most claimants would be exempt from the new rules.
Cases involving unpaid wages and redundancy pay will have an initial fee of £160 and a charge of £230 if it goes to a hearing, while those relating to unfair dismissal, discrimination complaints and equal pay claims will have an issue fee of £250 and a hearing fee of £950.
Mr Huckle said: "True and free access to justice for all citizens, whether their claims are popular or unpopular, is an integral part of the democratic settlement in the UK. This decision totally undermines that principle.
"The process of approaching a legal court or tribunal is off-putting for most citizens. The thought of doing so without direct legal advisory support and representation is daunting in the extreme.
"To be required to do so and pay substantial fees as well in advance will undoubtedly deter many applicants with good claims who will thereby be denied access to justice."
But UK justice minister Jonathan Djanogly said he wanted people, where they could, to pay a fair contribution for the tribunal system, which would encourage them to "look for alternatives".
"It's not fair on the taxpayer to foot the entire £84m bill for people to escalate workplace disputes to a tribunal," he said.
"It is in everyone's interest to avoid drawn-out disputes which emotionally damage workers and financially damage businesses. That's why we are encouraging quicker, simpler and cheaper alternatives like mediation."
TUC general secretary Brendan Barber said it was vital that working people had fair access to justice, but introducing fees for tribunals would deter many, particularly those on low wages.
Alexander Ehmann of the Institute of Directors said it strongly supported the UK government's decision to introduce the fees to make people "think twice before submitting vexatious or weak claims".