£500m Heathrow link to cut times on Great Western line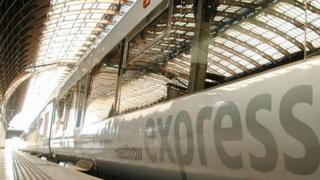 A new £500m rail link to Heathrow Airport has been given the go-ahead which will cut journeys by up to 30 minutes for travellers.
It means time savings from passengers travelling from south Wales, the west of England and the Thames Valley on the Great Western main line.
From 2021 they will no longer need to travel via London Paddington.
The new stretch of track will be built from Slough to Heathrow.
The Department of Transport said the exact service had yet to be decided, but it would be possible, for instance, to get on a train at Cardiff and travel directly to the airport.
The rail investment was part of an announcement on future plans for airports by Transport Secretary Justine Greening.
She said: "We are providing funding for a new rail line from the Great Western main line near Slough to Heathrow which could provide significantly improved connections from the Thames Valley, the west of England and Wales to the airport and journey time savings of up to 30 minutes."
"The next stage will be looking to the industry on a proposed route and it should be in operation by early 2020," he said.
Rail electrification
It is part of government plans and could be operational by 2021.
Stuart Cole, professor of transport at the University of Glamorgan, said the scheme would cut a sizeable chunk off journey times.
"The rebuilding of Reading station gives 18 platforms, which is a lot of capacity," he said.
Prof Cole said it would make sense to combine the electrification of rail services from south Wales with the new plan, but he said he thought that was unlikely to happen.
"The downside is that Cardiff Airport might become less competitive because Heathrow will be that much easier to get to," he added.
Welsh Secretary Cheryl Gillan said: "The Wales Office has always supported and recognised the importance of connectivity to Heathrow as a major UK air hub for Welsh business and Welsh passengers.
"The new rail link will not only provide a more convenient link, but will also be a key driver of growth for the region."
Cardiff council leader Heather Joyce called it "fabulous news" and said: "Gaining much quicker access for Heathrow will make us a more attractive investment opportunity for new businesses.
"It will also give people from the city region a quick, easy, sustainable way of getting to one of the biggest airports in the world," she added.