S4C: Welsh broadcaster to axe high definition service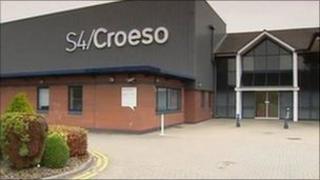 Broadcaster S4C has revealed it will axe its high definition service, available on Freeview, at the end of this year.
Ian Jones, S4C's chief executive, said the decision was "made inevitable" because of a reduction in its budget of 36% in real terms.
He said it was important to invest in content to ensure value for money.
The announcement came as the Welsh language broadcaster said it made a loss of more than £6m last year.
Mr Jones said the decision to axe the high definition service came in the wake of the "considerable reduction" in its public funding.
"There's no way of avoiding such a decision made inevitable because of the 36% reduction in our budget in real terms," he said.
"It's important we invest the greatest proportion of our budget in content in order to ensure value for money and in order to offer the best programme service to our viewers.
"We hope to be able to consider different options for using HD on several digital platforms in the future."
Meanwhile, it was revealed that the channel's operating loss of £6m for 2011 was more than five times bigger than the loss it made in the previous year.
S4C Authority chairman Huw Jones said the figure, published in its annual report, reflected an £11m reduction in its public funding.
He said the channel had used some of its reserves rather than implement the whole cut in its programme budget in the short term.
'Broad-ranging service'
S4C had its public funding cut from £101.6m in 2010 to £83m in 2012 as part of the UK government's comprehensive spending review.
The broadcaster reported a loss of £6,087,000 in 2011. It posted a loss of £1,196,000 in 2010.
Huw Jones said the challenge facing the channel was to retain its aspirations of providing a broad-ranging service while focusing spending on programmes with the greatest possible impact.
"The challenge is to do that in a way that isn't obvious to the audience, so that the audience doesn't see any difference," he said.
From next year most of S4C's funding will come from the BBC.