Blaenau Gwent issues 1,099 dog mess fines in one year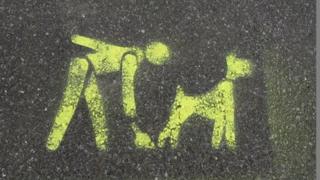 The number of fines issued for dog fouling in one area of Wales has soared from 10 to 1,099 in a year.
A private firm has been hired by Blaenau Gwent council to identify and fine people who do not clean up after their dogs. It is the only council in Wales to employ such a company.
A councillor said the "radical" step was taken by the council after it previously "failed" to stop the issue.
Anglesey and Powys councils did not issue any fines over the same period.
The figures were released as part of a Freedom of Information request by BBC Wales and showed Blaenau Gwent had the steepest rise in the number of fines for dog fouling.
In the county, offenders face a £75 fine and can be brought to court and ordered to pay up to £400 if they ignore the penalty.
Around 400 dog bins have been erected in the county in the past five years.
Independent councillor John Jones Hopkins, who oversaw the policy's introduction, said it was a response to years of criticism of the county borough as one of the dirtiest in Wales for dog fouling.
He said: "I have been a councillor for 21 years and we have failed over that time to tackle the problem. We have done all sorts of things that have had little or no effect.
"Against what we did before, anything that we did was going to be radical.
"Of course, we have been criticised because on occasions we haven't got it quite right, but one learns from one's mistakes. There has been a significant improvement.
"The message is getting out - how else are things like crimes to be stamped out without prosecutions?"
People in Ebbw Vale said they had seen improvements, but there was still an issue.
Retired miner John Thomas, 64, who has a border collie called Sparky, said: "There's less dogs' mess around than I remember but there's plenty of it around.
"I have always picked up after (Sparky), so why shouldn't other people do the same? I'm on benefits but there is no problem picking up after your dog.
"The dog is not going to pick it up himself."
But semi-retired chartered accountant Garry White, 66, from Ebbw Vale, was less convinced.
Walking Toffee, a 13-year-old Shih Tzu, and Tiny, a Shih Tzu/Yorkshire cross, he said: "I am surprised that a socialist local authority should adopt such a draconian policy.
"I still see dog muck. The enforcement officers take photos. I believe they are in breach of people's rights.
"If they wanted to earn their corn, they should go out later. They would probably encounter people who would tell them where to go and not in a very polite manner."
Shirley Caswell, 32, said they had not seen much change where they live in Abertillery.
"When I take the kids to school we are dodging it all the time."
"I have noticed [the council's policy] advertised but there are not enough dog bins.
"My dog is getting old now and she it not able to walk as far as the dog bins in either direction. When I take my dog for a walk, I have to take the dog poo back home with me."
Salvation Army worker Jo Walters, 45, of Cwm, said: "I've only been living here for 11 months but I have noticed a difference with other places. It's cleaner."
Blaenau Gwent introduced the new measure in October last year as a six-month trial. This has been extended for a further six months, when its effectiveness will be reviewed.
In a statement, the council said it was "determined to make sure that local people can enjoy clean streets, and we are therefore proactively enforcing littering and dog control offences, as well as raising awareness in our communities."
"We are pleased that we are making good progress in securing clean streets, as illustrated in a recent Keep Wales Tidy survey which found Blaenau Gwent to be the second most improved council across the whole of Wales."