3,500 assaults on police in Wales in past five years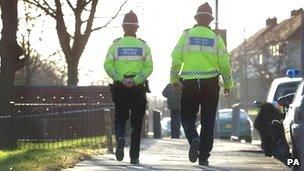 There have been about 3,500 attacks on police in Wales over the past five years, figures show.
While that averages about 700 annually, the number of attacks has been falling on officers serving in the four forces between 2007-12.
But police say the attacks remain a concern, with bleach thrown in the face of a Gwent officer, and one in north Wales assaulted with a baseball bat.
The figures were given to politicians under freedom of information requests.
They show that officers in Gwent suffered 597 assaults in the line of duty compared with 895 in north Wales and 961 in south Wales.
Dyfed-Powys Police collated its data differently, recording a police officer as an assault victim in 1,078 cases, although it is not known whether they were on duty at the time or whether they were an officer serving within that force or another.
Ch Supt Sue Hayes of South Wales Police said while the figures have almost halved over the past five years, any assault committed against a police officer was "one too many".
She said: "Police officers face a number of difficult tasks on a daily basis, and we are fortunate that the majority of the public treat our staff with respect."
Gwent Police said operational policing can mean officers come into contact with "unpredictable or violent individuals".
A Gwent spokesperson said all probationary officers completed an operational safety training course covering conflict management and unarmed defence tactics to ensure safety on duty.
The information released by Gwent Police shows officers have been assaulted in a number of different ways, including with a table, the spraying of CS gas, and bleach in the face.
North Wales Police logged 133 incidents in 2011-12, down from 247 in 2008-9.
Clwyd South AM Ken Skates and the local MP Susan Jones put in the requests for the information on assaults on officers.
Ms Jones said: "Though we have seen a trend where the numbers of incidents overall has come down, we are still witnessing an unacceptably high number.
"This has to change and we need to do more to stamp out this behaviour."
Mr Skates said the figures were a concern as police forces faced budget cuts whereas UK Policing Minister Nick Herbert insisted this week that the proportion of officers on the front line was increasing.
Mr Skates said: "The job is difficult enough as it is and to see them assaulted in the numbers they are is a matter of great public concern."
A Dyfed Powys Police spokesperson said the force always supports officers who have been the victims of assaults and "will ensure that offenders are prosecuted".
Related Internet Links
The BBC is not responsible for the content of external sites.