Warning after stag party tackles Snowdon in pyjamas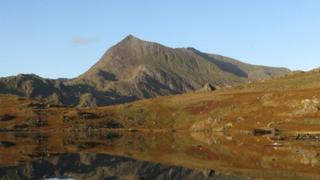 Mountain rescuers are urging walkers to be better prepared after a stag party tackled Snowdon in their pyjamas.
Dressed in only nightwear and trainers, the group walked up Wales' highest mountain in a "horrific" storm.
It is one of a series of incidents which has seen Llanberis Mountain Rescue Team (LMRT) called out to assist often poorly equipped groups.
LMRT chairman John Grisdale said pressure of people on the mountain was "extremely high".
He said the stag party walked up the mountain last Thursday, "in the middle of what turned out to be quite a horrific storm of thunder, lightning, very, very heavy rain and quite strong winds".
He said the group was advised, but "they went off and tackled Snowdon in their pyjamas".
He added: "It seems as if they had had a very pleasant walk on Snowdon last year and they wanted to repeat the occasion, which I can understand. Unfortunately I think it would be best to have left it for another day and had more enjoyment.
"Had something happened, a very trivial thing like a twisted knee or a broken ankle, or something like that, conditions on the mountain meant that they would've been seriously cold, miserable, wet and unfortunately drawing, probably, the mountain rescue team out to help themselves as well."
At 1,085m (3,560ft), Snowdon is the highest mountain in Wales and England.
In another incident on Saturday evening, a group of 11 was talked down from the mountain after becoming lost in mist .
It was the third incident of the day, with a man and teenager brought down off the slopes in separate incidents.
Mr Grisdale said: "In the course of six hours we dealt with three separate incidents.
"It's hardly surprising. The pressure of people on the mountain is extremely high.
"There are now often large groups of people on the mountain, including sponsored walks.
T-shirts and jeans
"Many of them are poorly equipped for the conditions.
"We have come across organised groups who are going up in T-shirts and jeans rather than supporting best practice.
"There are some that have best practices but some have a lack of understanding of the mountain conditions which at this time of the year can still be cold and wet.
"They need to be better prepared for the weather, with winds and lots of rain. The temperature is quite low as well.
"Being prepared is a significant part."
Mr Grisdale added that early on Sunday morning a man taking part in a Three Peaks Challenge sparked an alert after he became separated from his party shortly after the group of three reached the summit of Snowdon at about 03:00 BST.
The man eventually made his own way down to Llanberis and notified the authorities at around 08:00, he said.