Wettest June sees Wales set for more rain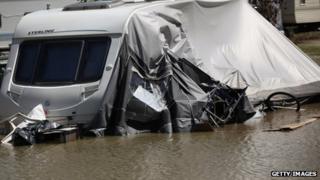 Wales has seen its wettest June on record with nine locations setting new records of their own.
More than 186mm (7in) of rain has fallen this month, more than double the average of records dating back to 1910.
And there is no end in sight while the jet stream, strong winds 30,000 feet high in the atmosphere, remains out of its usual place.
BBC Wales meteorologist Derek Brockway said: "Once a weather pattern is set, it can be difficult to shift."
He added: "The weather has been very erratic so far this year.
"March was the warmest for over 50 years. April one of the wettest on record. There was a heatwave in late May but since then it has done nothing but pour down."
Rain that was welcomed in drought-hit areas of the UK in April after two dry winters in a row, has now become something that many people are fed up with.
Deluges in June are thought by some to be caused by a kind of "European Monsoon" whereby the prevailing westerly winds from the Atlantic, which tend to weaken at the end of spring, return at the beginning of June and bring with them rain-laden depressions that can last into July.
However, the jet stream is a major driver of the UK's climate. It does change its path naturally and should be located between Scotland and Iceland at this time of year.
But so far this summer is has been much further south than usual and this means Wales has seen more low pressures, bringing with them plenty of rain, showers and strong winds.
However, the "European monsoon" normally weakens in July and if we are lucky the rain is broken-up with areas of high pressure from the Azores, which bring us spells of warm and settled weather.
These may last a week or two but more often than not, the most we can hope for is two or three fine days followed by a thunderstorm - in other words, a typical British summer.
Mr Brockway said: "Over the last few years, it has become more noticeable that once a weather pattern has set it, it seems to stick around for a few weeks at a time, giving us extended spells of either good or bad weather.
"Our climate is notoriously changeable yet this year has certainly brought us some very erratic weather changes."
Some people think that climate change may be affecting the jet stream but there is not enough evidence to prove this assertion. More research is needed.
The record rain fall made the Met Office weather station near Capel Curig in Snowdonia the wettest place in the UK over the month, with more than 316mm (more than 1ft) of rain. That is two and a half times the average.
Tirabad, Powys, was the 8th wettest, recording over 206mm, while Usk, Monmouthshire, was the ninth wettest place, receiving over 205mm.
The forecast for July is changeable with more rain and showers on the way next week.
Currently, there is no sign of any proper summer weather on the horizon but there will be a few sunny spells.