Medieval manuscript The Laws of Hywel Dda back from USA for auction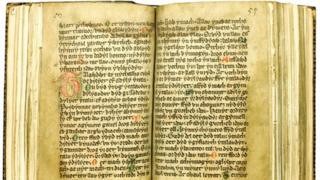 One of the first medieval manuscripts to be written in Welsh is going under the hammer in London, valued at between £500,000 and £700,000.
It is believed the 14th Century pocket book, called The Laws of Hywel Dda, was taken to America by Welsh settlers in the 1700s.
Sotheby's said the sale on 10 July marked its return to Britain for the first time in at least 150 years.
It is being sold by the Massachusetts Historical Society of Boston.
Tenth century Welsh ruler Hywel Dda created the country's first uniform legal system.
A sense of fairness ran through the laws, including how they dealt with the rights of women.
Dr Tim Bolton, a specialist in medieval manuscripts at Sotherby's, said the lot was the first of its kind to be auctioned for almost a century.
He described it as a "quite unassuming" pocket book reference for a medieval lawyer.
"This is the text that goes to the heart of Welsh identity and I'm afraid, from my side and with some embarrassment, the somewhat stormy relationship with England in the Middle Ages.
"I believe there are about 60 medieval copies of the law of Hywel Dda, but actually there is almost nothing, only fragments, before the year 1250 that survive.
"And then there are only 80 books in medieval Welsh, or fragments of books, that survive for the whole of the Middle Ages. It's a tiny, tiny number."
Dr Bolton said the story behind the pocket book was remarkable.
"It first emerges in the library of William Phillips, who died in 1721, who coincidentally is a barrister. He's also a town official for Brecon.
'Hoping'
"It was seen there by the antiquarian Edward Llwyd and then William Wooton and then it just disappears.
"We do know, after a great deal of research, that his daughter Anne inherited his books and they went to her husband William Scourfield.
"We know that members of the Scourfield family are among the earliest settlers to the Pennsylvania Welsh community and it just must be that the book went out with them or their immediate descendants."
Dr Bolton said the pocket book was being sold by the Massachusetts Historical Society, and he hoped it would return home to Wales.
"After at least a century and a half away, and perhaps a leave of absence of almost three centuries, we're all rather hoping that the new buyer can carry it back to Wales," he said.