Children in poverty in Wales falls to 23% after incomes drop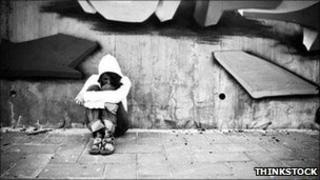 The proportion of children in poverty in Wales has fallen to its lowest level since the mid-1990s.
The percentage of children from homes below the poverty line fell by 3% to 23% in the three years up to 2010/11, but it is above the UK average of 20%.
Children are classed as being in relative poverty if they are from a household that lives on less than 60% of the median average income.
The decline has been attributed to a drop in incomes across the board.
The 23% figure - which represents about 100,000 children - does not take account of housing costs.
The proportion of children in poverty after accounting for housing costs also fell after rising steadily during the last four years.
It fell from 33% to 31% when new figures were published by the UK government on Thursday.
The weekly income below which households are defined as being in poverty fell from £259 in 2009/10 to £251 last year as incomes fell across the population as a whole.
Target
The Welsh government has said it is committed to eradicating child poverty by 2020, although the Children's Commissioner recently expressed doubts about whether the target could be met.
Plaid Cymru welcomed the figures, but said there was still a bigger chance that children would be living in poverty in Wales than in England or the UK as a whole.
The party also warned of the impact of cuts to public spending.
"We are nowhere near reaching the benchmarks of halving child poverty by 2010 and ending it by 2020," said Plaid MP Hywel Williams.
The Westminster coalition says factors such as drug addiction, homelessness and unemployment should be considered as well as income when defining child poverty.
But Wales' deputy children's minister Gwenda Thomas said: "Changing the definition of poverty is a distraction from the real need to tackle high levels of child poverty in Wales and the UK.
"The Welsh government remains fully committed to the measurement of poverty using a relative measure and to the aims of eradicating child poverty by 2020, to ameliorating the impacts of poverty, and to tackling the long term causes of poverty."
A Welsh government spokeswoman added that the figures were "broadly welcome".
"However, we remain cautious about some aspects of the figures. Levels of relative poverty can fall because of changes in middle incomes," she said.
"It will be important over the coming weeks to further analyse the reasons why these changes have occurred."