Wales flooding: Call for action to avoid repeat as clean up continues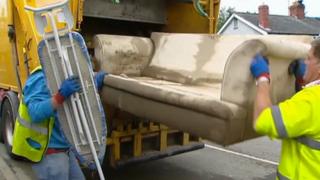 The Environment Agency is being urged to do what it can to prevent a repeat of the flooding that forced about 1,000 people from their homes in Ceredigion on Saturday.
Villages in the county were flooded by 5ft (1.5m) of water with record high river levels in parts of Aberystwyth.
An estimated 150 were rescued, many from caravan parks, but the clean up has begun after water levels receded.
The Environment Agency (EA) said it did not miss any signs.
Phillip Pickersgill, the EA's flood risk manager for south west Wales, said the "unfortunate thing" was that the River Leri had a small catchment area and he did not believe officials had "missed any signs".
But he warned that events like Saturday's could become more frequent, and said "more heed" should be given "to the information we now have on these events".
"We had initial indications from the Met Office that the front that had moved across the area on Friday was going to have significant rain in mid Wales," he said.
"But we didn't anticipate the level of rain and the concentrations we had for the length of time we had them."
Mr Pickersgill said the EA's initial date said the floods could have been "in excess of a hundred year event".
He also explained that the EA can only issue warnings for large areas, not small ones.
"It's the intensity of rain that we had, all of our records are being extended, so in essence, our defences in Aberystwyth held up. A lot more property could've been flooded if it wasn't for those defences," he said.
Caravan parks and villages near Aberystwyth were inundated by floodwater when twice as much rain fell in 24 hours than normally falls in the area in the whole of June.
Lessons
"Let's not understate the case that we had 36 hours remorseless heavy rain, unprecedented levels of rainfall and we've seen and we've seen the consequences of that," said Ceredigion MP Mark Williams.
"There are lessons that are going to be learnt. The Environment Agency will need to assess the strategies in place.
"I know the county council are looking not just at the huge clean up operation that has to be undertaken but are looking at the longer term issues that have to be addressed," he added.
"The Environment Agency will, I have no doubt, have a full investigation as to what happened."
Mr Williams's call was backed by Brecon and Radnorshire MP Roger Williams who said: "All these areas need to have their flood resilience looked at again.
"In particular we urge the Environment Agency to look particularly at this area and see if anything can be done to prevent another such flood."
The areas worst affected in the early hours of Saturday were Talybont, Dol-y-bont, Llandre, and Penrhyncoch - all in Ceredigion.
Machynlleth, in Powys, was also flooded and roads in surrounding areas were closed.
'Unprecedented levels'
Dyfed-Powys Police said they believed 1,000 people had been evacuated in total from Ceredigion and parts of Powys.
About 100 firefighters were involved in rescue efforts, as well as RNLI teams and other emergency services. Three people received treatment after sustaining minor injuries.
On Sunday, 600 people in the village of Pennal in Gwynedd were asked to evacuate their homes over concerns about a flood risk.
There was a slight breach of a dam in a reservoir, which has built up water in a disused quarry over the years. There were concerns it might flood a nearby river and affect the village.
Capel Bangor was another area affected.
Lowri Jones, whose land lies where the river Melindwr meets the river Rheidol, said it had been a "problem waiting to happen"
She said: "It's been an increasing problem over the last 10 to 15 years whilst I've been living here mainly because of the emphasis not to touch the river beds or remove any brigs or stones that are washed down from the mountain."
She now hopes there will be talks with the Welsh government to allow farmers to remove stones that are washed down on a far more frequent basis, to let the water flow freely.
"There are strict rules that prevent farmers from touching the river beds in order to try and protect the fish and various species that live and grown along the river beds."