1962 south Wales smallpox outbreak memories recorded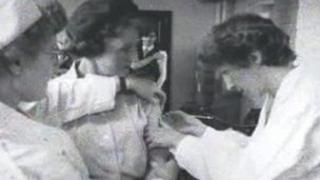 An online archive has been launched which details the stories of people affected by a smallpox outbreak in south Wales in 1962.
Some 19 people died and 900,000 were vaccinated after a traveller from Pakistan arrived in Cardiff and was diagnosed with the disease.
Fifty years on, a University of Glamorgan lecturer has collected memories, along with official records.
He said his work unveiled some fascinating accounts.
He said they give personal insights into a time when most of south Wales was touched in some way by smallpox.
The outbreak started in January 1962 when Shuka Mia arrived in Cardiff from Pakistan and was diagnosed with the disease.
In total, 19 people died - six in the Llantrisant and Rhondda areas and 13 in Bridgend. Shuka Mia was not one of them.
During that period, 900,000 people were vaccinated and a huge operation was mounted to trace contacts and contain the outbreak.
Lecturer James Stewart had previously researched the outbreak during his time as a TV journalist, and said he wanted to use the information to mark the 50th anniversary of the outbreak.
He appealed for information from people via social media and searched for records in the national archives.
Smallpox mystery
What he found was put onto the website Smallpox1962 day by day, beginning in January - 50 years to the day the outbreak was discovered - through to the day it was officially declared to have finished.
Along the way he revealed the human interest stories behind the outbreak - and also the mysteries that still surround it.
"There are two really big mysteries," said Mr Stewart, who is senior lecturer in radio journalism at the University of Glamorgan in Treforest, Rhondda Cynon Taf.
"We know how smallpox came to Cardiff but nobody there became ill, although a mass vaccination programme was launched.
"Shuka Mia was sent to an isolation hospital and survived.
"But some weeks later a consultant at the East Glamorgan Hospital in Church Village [in Rhondda Cynon Taf] fell ill and was diagnosed with smallpox.
"He was the only doctor in the hospital who decided not to get vaccinated and he died.
"But people had no idea how he got it. It turns out he got it through a woman in the Rhondda who died in childbirth who he had treated. Other members of her family were also affected by smallpox.
"But it was a real mystery how a heavily pregnant woman in Maerdy in Ferndale, way up the Rhondda, got it from Cardiff. We still don't know."
'Fear felt'
Another mystery came when the disease moved to Bridgend.
"Five to six people died in the Rhondda and smallpox was about to be declared as over when days later 12 ladies died in Glanrhyd hospital in Bridgend," Mr Stewart went on.
"Someone must have taken smallpox in there but we don't know who."
Mr Stewart said the archive also highlights the fear that people felt about catching the disease.
"One story featured is that of a man whose father was a shopkeeper and they were treated like lepers because they were travelling around and meeting people and had been in contact with smallpox," he said.
"That goes against the kind of idea of the strong community in the valleys. It's a good indication of the fear felt."