Powys-Denbighshire road closure will 'damage' trade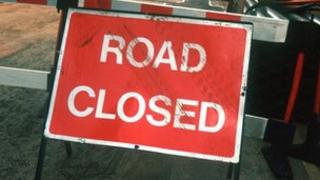 A nine-week road closure on the Powys-Denbighshire border will damage trade and cause havoc for commuters, claim businesses in the area.
A 2½ mile (4km) stretch of the B4391 on the Berwyn Mountains, north of the Powys village of Llangynog, will shut for resurfacing on 6 June.
Denbighshire council said the work was essential and might only take four weeks.
Montgomeryshire MP Glyn Davies has asked for it to be rescheduled.
Pubs, shops and bed and breakfasts in the Llangynog area of the Tanat Valley complain they face a bleak summer due to the closure of the major tourist route.
The village is a stopping off point for tourists and has two pubs, The New Inn and the Tanat Valley Inn, which rely heavily on passing trade for food and bed and breakfast.
Pam Williams the landlady of both pubs said: "This road closure will have a devastating effect on our trade.
"We rely heavily on passing trade and our regular visitors from Bala, particularly on the weekends and for our Sunday lunches. I may have to consider reducing my opening hours."
Mike Atherton, the owner of Pen Derw bed and breakfast and River's Nest catering cabins in Llangynog, said the council had not consulted businesses and residents about the road closure.
"This couldn't have happened at a worst time for us as we have just opened our bed and breakfast and were looking forward to a busy summer," he said.
"This closure will affect everyone in the Tanat Valley including the pubs, bed and breakfasts and shops in Shropshire as far back as Knockin (near Oswestry).
"It is disgraceful that the only notice we had was when a sign went up in the middle of nowhere on top of the Berwyns."
Denbighshire council said it knew the road closure would cause disruption, but the condition of the road, and the fact that funding was now available, meant it had no choice but to carry out the work now.
"We have consulted with the street works teams in both Gwynedd and Powys county councils," said a spokeswoman.
"Any concerns raised have been addressed and amended accordingly and diversions, which have been agreed between all three councils, will be in place.
'Economic harm'
"The closure application was for nine weeks, which would be the maximum amount of time we would need to close the road, but we have already identified time savings and, all being well, we would hope that the closure would only be for four weeks."
Montgomeryshire MP Glyn Davies said he was "very concerned" for local businesses.
"Road improvements should have been programmed for the winter months," he said.
"I have written to Denbighshire council asking that the timetable for closure be reconsidered to avoid causing unacceptable economic harm to local tourist businesses."
Trevor Foster, vice-chairman of Llangynog Community Council, said he was "disappointed over the lack of formal consultation with communities".