Gorsedd honour for Carwyn Jones, Shane Williams and John Hartson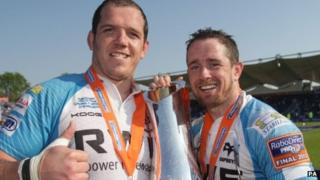 Wales rugby legend Shane Williams, First Minister Carwyn Jones, and ex-footballer John Hartson are to be honoured by the Gorsedd of the Bards.
They are among 29 people to wear the robes at the National Eisteddfod in Cowbridge, Vale of Glamorgan in August.
Others include rugby star Stephen Jones and opera singer Wynne Evans - best known for his character in a TV insurance advert.
The honour is for contributing to the nation through various fields.
The ceremony will take place during the annual festival between 4-11 August.
About 30 others will become members of the Gorsedd of the Bards after passing exams or degrees.
The Gorsedd was created in 1792 by scholar Iolo Morganwg.
The head of the Gorsedd of the Bards is the Archdruid, who is elected for a term of three years, and is responsible for conducting the Gorsedd ceremonies during eisteddfod week.
By tradition Gorsedd members, who dress in blue, green or white robes, choose a bardic name at their induction.
This year, the Gorsedd of the Bards opted for a change in the robe system, with only winners of Eisteddfod main stage competitions being allowed to wear white.
Everyone else entering the Gorsedd as an honorary druid will wear blue for succeeding in the fields of law, science, sports, journalism, media, and local or national activities.
Those honoured for their contribution to the arts, or those passing the Gorsedd examination, or through degrees, wear green.
Recently retired Wales rugby international Shane Williams, who scored in his final match for Ospreys last weekend, is honoured with a blue robe.
He will hang up his boots this weekend after playing for the Barbarians against Wales at the Millennium Stadium.
First Minister Carwyn Jones, a barrister, will receive a similar honour, along with former Wales and Celtic footballer John Hartson - who fought a battle with cancer and is now a football pundit.
Mr Jones said: "It is a great honour and a privilege to be called to the Gorsedd, especially as I will be joining alongside some very famous people who have reached such great heights in their field.
"I am humbled to be joining an institution that has recognised people who have done so much for Wales, from the arts, literature through to sport.
"It will be a great day for my family and I."
Former Wales footballer Iwan Roberts and Wales fly half Stephen Jones will also wear blue robes.
Wearing green will be Radio 1 and Radio Cymru DJ Huw Stephens, folk singer Linda Griffiths, actress Lisbeth Miles and tenor Wynne Evans, who has found fame outside the opera house with his Go Compario character for a series of TV adverts.
Stephens said: "I have been to every National Eisteddfod since I was born. This will be my 31st.
"It's a great honour and I'm looking forward to the ceremony."
A full list of those being honoured will be available on the Eisteddfod website .
The Vale of Glamorgan National Eisteddfod is held this year on the old airfield at Llandow, near Cowbridge.