Torch relay: Sir Chris Bonington takes flame to Snowdon summit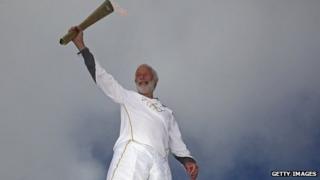 Hundreds of climbers greeted British mountaineer Sir Chris Bonington as he carried the Olympic flame up to the top of Snowdon.
The flame was brought up in a lantern on the Snowdon Mountain Railway before Sir Chris took it to the summit, 1,085m (3,560ft) above sea level where the torch was lit.
Crowds cheered and waved flags as Sir Chris climbed to the very top and put his arms aloft.
Snowdon was where he began his climbing career 61 years ago.
"I find it quite emotional as this is to do with so much of my climbing heritage," Sir Chris, 77, told BBC Wales.
"I started my climbing here 61 years ago.
"This is huge and I'm very, very proud."
He joked: "I would've preferred to walk up, except it's been nice coming up by train with all of the organisers."
Coming down Snowdon, Sir Chris said: "I found it very moving.
"As you get older, your balance isn't as good as it was.
"The turnout was fantastic. It was such a lovely and warm atmosphere which meant a heck of a lot to me."
Twins Debbie Quaeck and Tracey Evans made a last-minute decision to climb Snowdon to see it after a mishap when the flame was in Porthmadog on Monday.
"We were in the High Street in Porthmadog right in front of the torch being lit, but I forgot to press record on my camera," said Tracey, 40, from Penrhyndeudraeth.
Debbie added: "At 10.30pm last night, we heard it was coming up Snowdon so we decided we were going to go up."
Five friends from Porthmadog walked up Snowdon to see the flame.
"We saw it in Porthmadog yesterday and thought it would be good to see it up here with the breathtaking views," said James Richards.
"We took the day off, got up at 5am to leave Porthmadog at 6am. It was a grotty start."
David Jones, who was part of the group, was making his first trip up Snowdon and his friends made him wear a weights vest to walk up the mountain.
He said: "It was brutal but nice in the end."
Summit manager Jonathan Tyler said: "This is just huge. It's brilliant to be involved with it.
"The weather is not usually like this, it's just a great day for everybody."