Cardiff uni claims evidence of Stone Age 'inequality'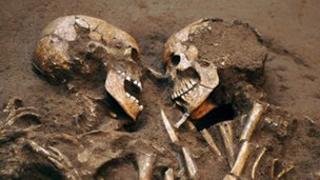 A study of more than 300 Neolithic skeletons suggests evidence of "hereditary inequality" among farmers 7,000 years ago, researchers claim.
Archaeologists from Cardiff University led a team who studied the skeletons from across Europe.
They say evidence suggests farmers buried with tools had access to better land than those buried without.
Dr Penny Bickle, of Cardiff University, said community diversity "probably occurred through inheritance".
The research was conducted by archaeologists from Cardiff, Bristol and Oxford universities, and others across Europe.
The project was led by professor Alasdair Whittle from Cardiff University's school of history, archaeology and religion, and involved studying more than 300 skeletons across central Europe.
The researchers claim to have evidence which suggests "differential land use among the first farmers of Europe, called the Neolithic period".
The skeletons' teeth were analysed for strontium isotopes, and results differed between those who were buried with tools called adzes, and those who were not.
'Incredible detail'
Professor R. Alexander Bentley, of Bristol University, said: "The men buried with adzes appear to have lived on food grown in areas of loess - the fertile and productive soil favoured by early farmers.
"This indicates they had consistent access to preferred farming areas."
Prof Whittle said: "Our results are providing incredible detail about the lives of these earliest farmers, helping us to understand the ways in which they restructured their society at the beginning of farming."
The team believe strontium isotope analysis also reveals that early Neolithic women were more likely than men to have originated from areas outside those where their bodies were found.
Researchers think "this is a strong indication of patrilocality, a male-centred kinship system where females move to reside in the location of the males when they marry."
Dr Penny Bickle, of Cardiff University, said: "Community diversity seems to have happened very early on in the transition to agriculture and probably occurred through inheritance and kinship systems rather than individuals competing for wealth."