Olympic torch: Communities unite around flame in Wales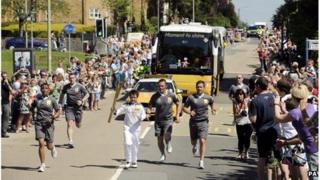 As the Olympic torch travels across Wales, communities have been coming together to celebrate what many are describing as a once in a lifetime experience.
From Barry, up to the valleys, down to Bridgend and along to Neath, villages and towns have been decked out with bunting and flags.
The torch finished in Swansea where crowds gathered early for their chance to glimpse the Olympic flame.
Ogmore Vale primary school head teacher Paul Booth said: "People in the valleys love to get together and this gives them a chance to express their community spirit.
"I think the excitement it's generated is tremendous. Once the kids all knew it was coming through Ogmore Vale, all of a sudden their little village was on the map.
"It's really brought the Olympics home."
Among the celebrity runners joining the relay on Saturday was Gethin Jones who held the flame through Merthyr Tydfil.
"It was such an honour to carry such an iconic symbol just down the street from where I was born," the TV presenter told BBC Wales.
But Saturday's 132 torchbearerssl also include volunteers, sports people and those working in the community.
Torchbearer Siwan Thomas-Howells said it felt "really emotional" while Haulwen Evans, from Merthyr said: "It's a wonderful opportunity for all the people in the valleys.
"Probably the majority of us will never be able to afford to go to the Olympics. I'm glad they haven't forgotten the valleys."
Spectator Andrew Walker from Merthyr Tydfil said: "I've had a keen interest in it. I was up at 6.15am watching Matt Smith taking the torch out of Cardiff Bay.
Erin, 11, also from Merthyr, said: "It was amazing. I've been watching it all the way through and I wanted to see it in person."
Jane Anthony, a teacher at Goytre primary school, added: "We are promoting the Olympics in school and are doing lots of activities. We've had parent workshops to help make the torches with the children."
Runner Malcolm Green, 73, was chosen as a torchbearer in Caerphilly for his community work.
Mr Green's family turned out in force to support him.
Son-in-law Rob Aldersley, 46, from Ebbw Vale, said: "He's very excited. There's about 12 to 14 of us here to support him - we've got a banner and everything.
"This is an important part of the occasion and gets the whole community involved."
Majesty of castle
The Robottom family travelled from Bristol to Caerphilly to see the torch.
Karl Robottom said: "We had never been to Caerphilly so we fancied having the morning here and looking around.
"It's beautiful and the people are very friendly."
Mayor of Caerphilly, Gaynor Oliver, told BBC Wales: "I'm absolutely thrilled with the response from the people of Caerphilly. It's the majesty of the castle - and I just wish Her Majesty was here as well."
And Neath Port Talbot council leader Ali Thomas said it was great that the area was chosen for the relay.
Castle Square in Swansea City centre was packed two hours before the flame was due to arrive.
Good view
As crowds baked in the sunshine they were treated to musical acts and were able to watch the torch's progress on the big screen.
Terry and Vilma Morgan, from Swansea, got their seats early.
"I don't suspect we will ever see this again," he said.
"It's bringing everybody together and they are enjoying it."
So many people wanted to be part of the celebrations in Castle Square that they even used the fountain steps to get a good view.
Those who waited were treated to music and dancing, with BBC Radio Wales presenter Owen Money also keeping them entertained.
The Phoenix Choir then sang the Welsh national anthem which got many of the crowd joining in.
There were cheers from those gathered as they saw the convoy enter Swansea.
And when it made it to Castle Square shortly after it received massive cheers when Bethan Wall From Swansea brought the flame on to stage.
She said: "The crowds have been amazing."
Swansea mayor Ioan Richards said: "It means a tremendous amount to Wales."