Wales adder bite hotspot, says National Poisons Information Service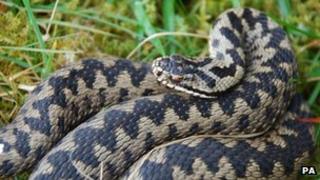 More than one in 10 of all adder bites on mainland Britain in recent years happened in Wales, with the south west around Swansea a particular hotspot.
Some 23 people in Wales were bitten by the UK's only venomous snake between 2009-11, the National Poisons Information Service found.
There were 12 recorded in south west Wales, seven around Llandudno, three in Newport and one in Llandrindod Wells.
There were 196 cases across Wales, England and Scotland.
In contrast to Wales, there were only eight recorded incidents in the whole of Scotland.
Dr John Thompson, director of the National Poisons Information Service (NPIS), said the fact Wales had a high proportion of adder bites was not surprising.
"We have some very nice countryside in Wales and people go out walking with the potential to get bitten," said Dr Thompson, who is based in Cardiff.
He added that the high concentration of bites recorded in Swansea and the south west was probably due to the high population living and walking there.
Prof Simon Thomas, director of NPIS Newcastle, said that although adder numbers had decreased in recent years and they were rare, they were still present in certain areas.
"They usually keep well out of sight, but in the summer months are active because the weather is warmer," he said.
"Because they are well camouflaged people can accidentally tread on them, which is when they can bite. They can also bite if picked up."
Semi-open habitats
A venomous bite can cause local pain, tenderness, swelling and bruising.
The NPIS is alerted when medics at places such as Swansea's Morriston Hospital seek advice for the treatment of patients bitten by adders.
Patients' condition are monitored and some require a vaccination, while others do not require any treatment.
BBC Wales Nature reports that adders are rare in mid Wales, but they can be seen in "reasonable numbers" in the north and south of the country.
They live in a variety of open or semi-open habitats, from heathland, young woodland, golf courses and even motorway verges.