BBC Springwatch returns to Ynys-hir reserve in mid Wales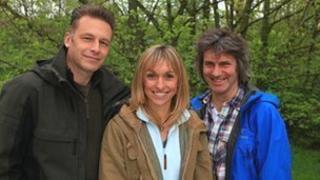 The BBC Springwatch team are preparing for a three-week return to its base at Ynys-hir nature reserve in mid Wales.
Chris Packham, Michaela Strachan and Martin Hughes-Games will present the show which will include a film about the life of moles, underground.
The Ynys-hir nature reserve managed by the RSPB covers 700 hectares and is set at the top of the Dyfi Estuary.
Around 40 miles of cables and 30 mini cameras will record the wildlife when the show is broadcast from 28 May.
Viewers can expect to see footage of birds on the nest, with intimate views of blue tits, barn owls and rarer species such as ospreys and pied flycatchers.
RSPB reserve warden Russell Jones said in his blog : "The number of BBC staff present increases daily and camera teams are out checking the special nestboxes put up in late winter."
Every week there will be a new wild challenge and the results will be revealed live on air.
The team will be monitoring the reserve at night with special infra-red and thermal imaging cameras, exploring the undergrowth with macro cameras and capturing things the human can't see with special slow motion cameras.
Veteran conservationist Roy Dennis visits one of the biggest seasonal spectacles, a sea bird colony, and finds out why they might need help.
Mr Dennis is also an international expert on osprey so will no doubt be visiting the Dyfi Osprey Project to check up on the three osprey eggs which according to reserve warden Emyr Evans " Will be hatching around 27 May".
Presenter, Martin Hughes-Games goes on a mission to find an animal which has been declared extinct in Wales - the pine marten. Following up reported sightings, he's looking for concrete evidence that pine martens have made a comeback.
Wildlife expert Iolo Williams will be following up on some major stories, providing live updates of nesting urban peregrines and monitoring their chicks.
He'll also be donning his wetsuit for a live encounter with predatory pike which have been known to eat small water fowl as well as fish and frogs.
In Pembrokeshire, entomologist Sarah Beynon will be delving into dung and taking a closer look at cow pats to study the fascinating mating behaviour of dung flies.
Keep up to date with the latest news and retweets from the BBC crews out in the field via Twitter @BBC_Springwatch or use #springwatch to tweet the team.
BBC Springwatch will be shown from 28 May - 14 June at 20:00 BST on BBC Two.