Macmillan urges financial advice to cancer sufferers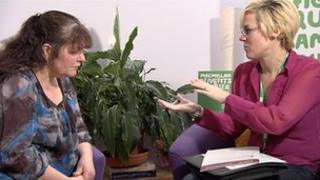 A charity is urging the Welsh government to ensure all cancer sufferers are given financial advice when diagnosed with the disease.
Macmillan Cancer Support said people were often unprepared for the financial cost of cancer and do not know of benefits they are entitled to.
An average patient in Wales faces over £1,500 in extra costs, including travel to hospital, on top of loss in income.
The Welsh government said it was working to ease the financial burden.
Research published by Macmillan suggested some 95% of patients face an increase in travel costs as they travel back and forth to hospital for treatment and follow-up appointments.
On average, this amounts to an estimated £275 per patient in the first year, rising to £400 over five years.
It found that an average £400 is spent on new clothes over five years as patients often lose or gain weight while undergoing treatment such chemotherapy, while wigs may also be needed.
Energy bills also rise as a patient is often home more and other costs can include childcare and household modifications.
It comes at a time when sufferers may also face a reduced income if they are unable to work, the charity said in its report, Counting the Cost of Cancer .
It added that some cancer sufferers may also lose money due to UK government changes to the welfare system.
The charity said it wanted every person affected by cancer in Wales to be made aware of their financial rights and entitlements from the point of diagnosis.
It is urging the Welsh government to ensure that health professionals offer the information and advice as soon as possible.
Susan Morris, general manager for Macmillan Cancer Support in Wales, said the financial impact of cancer was a growing problem in Wales.
"When people think of cancer they don't usually think of money," she said.
'Alleviate anxiety'
"But the sad fact is that for many people who get cancer, money is one of their biggest worries."
She added: "Access to timely and appropriate benefits advice can significantly reduce financial hardship, alleviate anxiety and stress, improve quality of life and help people make informed choices throughout their cancer journey."
At the moment, patients and their families are not routinely offered financial advice and support when they receive a diagnosis.
Fewer than half of people with a cancer diagnosis in Wales say they receive financial advice or support from any source, said the charity, which has its own welfare benefits advisers.
This figure falls even further among the over-65s, where fewer than one in three receive support, the research found.
The Welsh government said its Cancer Delivery Plan says that more care and treatment should be provided at local hospitals, reducing the need for patients to travel.
"But for rarer cancers, patients may still need to travel to specialist cancer centres to ensure the best outcome," a spokesman said.
"It also makes clear that following diagnosis, a patient's needs are assessed and information is provided on access to financial help and support.
"In addition, patients on certain benefits are entitled to reclaim some or all of their travel costs or those with a clinical need can arrange transport through the Patient Care Services."
He added that cancer patients also benefit from free prescriptions and free hospital car parking in Wales.