Allergies cut by friendly bacteria supplement, Swansea University study finds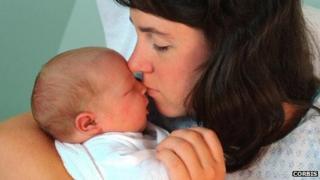 Babies who take a "friendly" bacteria supplement are less likely to develop allergies when they grow up, according to a study by Swansea University.
When pregnant women and infants were given a probiotic in a test the babies were 57% less likely to develop eczema.
They were 44% less likely to develop reactions to common allergens such as pollen, cow's milk, egg and dust mites.
The results have been welcomed by academics and writers who say allergies appear to be on the increase.
More than 21m adults in the UK suffer some sort of allergic reaction according to a 2010 study by market researches Mintel, making the UK one of the top three countries in the world for allergy incidence.
Scientists have argued that increasingly hygienic surroundings and diets over the last 50 years have left people underexposed to friendly bacteria which can combat allergies.
The double-blind placebo controlled study was run by Professor Stephen Allen of Swansea University's College of Medicine.
It used a probiotic supplement manufactured by Cultech, based in Port Talbot.
The study involved 454 pairs of mothers and infants, who took a daily dose of the probiotic supplement from 36 weeks of pregnancy and during the first six months of life.
When the babies were assessed at two years of age it was found that those taking the probiotic significantly reduced their chance of becoming allergic to common allergens such as pollen, cat dander (microscopic skin particles), house dust mites, cow's milk and egg by 44%.
The risk of the children developing atopic eczema was reduced by 57%.
Professor Glenn Gibson, head of food microbiology at the University of Reading, said the results were "exciting".
"This study in particular is a breakthrough in terms of its size, length and depth," he said.
"The results are extra exciting, when we consider the amount of money currently being spent to cope with allergies.
It was also welcomed by London-based GP and medical writer Dr Carol Cooper.
"There's no doubt that allergies are on the increase and doctors, like others, feel powerless to stop the rise," she said.
"This trial shows that the development of allergies could be tackled at a young age and this result is significant."
Prof Allen has submitted his research to the US-based Journal of Allergy and Clinical Immunology and will also present the data in detail to healthcare professionals next week.