Six Welsh beaches lose blue flag status but 43 others receive the award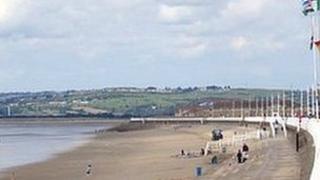 Six beaches in Wales have lost their blue flags but 43 beaches and five marinas have earned the award.
Aberavon, Cefn Sidan, Llandudno North Shore, Aberystwyth, Criccieth and Fairbourne lost the status.
Neath Port Talbot council invested £400,000 to improve facilities at Aberavon, but the award was lost due to poor water quality.
Pembrey beach in Carmarthenshire; Penmaenmawr in Conwy; and Tywyn, Gwynedd, all gained blue flag status.
The blue flag award is issued by the Foundation for Environmental Education (FEE), which rates beaches on categories including facilities, environmental management, water quality and all-round cleanliness.
Five marinas
Pembrokeshire boasts 12 beaches which achieved the standard, with Anglesey, Ceredigion and Gwynedd home to six blue flag sites.
Swansea boasts four, including Bracelet Bay, Caswell, Langland and Port Eynon, while the city's marina was among one of only five in Wales to also receive blue flag status.
Business Minister Edwina Hart said the number of blue flag sites in Wales sent a positive message to visitors.
She said: "This is obviously good news for the tourism industry and sends out a very positive message to visitors that Wales has an abundance of superb safe beaches, seaside resorts and marinas for all to enjoy.
"Tourism makes a vital contribution to the Welsh economy and this latest news, combined with the recent opening of the Wales Coast Path, provides a great opportunity to promote Wales' stunning coastal scenery and attract more visitors to Wales."
Best on earth
Earlier this year, travel guide Lonely Planet described the Wales coastline as the 'best region' on Earth to visit in 2012.
Elsewhere, Whitmore Bay in the Vale of Glamorgan was recognised, as was Prestatyn Central in Denbighshire.
Neath Port Talbot Council said water quality was affected by last summer's heavy rain and that it was "very disappointed" that Aberavon beach failed to achieve blue flag status.
The three-mile stretch of sand lost its status for the first time in five years despite undergoing recent refurbishment with Welsh government money.
A Facebook campaign launched last year called for improved facilities on Aberavon seafront, prompting a £400,000 makeover.
More work needed
Work on the children's playground and toddlers play pool is soon to be completed, and seats, bins, access paths, ramps and steps have been upgraded in what the council labelled a "huge development".
Aberystwyth beach met all land-based criteria but also failed due to its water quality samples.
Chris Mills, director of Environment Agency Wales, said more work needed to be done if Welsh beaches were to meet tougher standards over the next few years.
He said: "We have worked hard to improve water quality at our beaches by directing investment by water companies, advising farmers on different working practices and tackling other sources of pollution.
"There are still areas we need to address like sewage spills, run off from fields and urban areas, badly maintained septic tanks and misconnected water pipes in homes and businesses to help all beaches in Wales to achieve these higher standards."