Cardiff Airport boss Patrick Duffy leaves managing director's job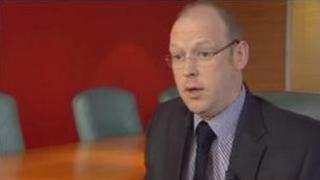 The boss of under-fire Cardiff Airport has left his post, it has emerged.
Managing director Patrick Duffy's departure follows more criticism of the airport's performance by the first minister on BBC Wales Week In Week Out.
Carwyn Jones called on the owners of Cardiff Airport to invest in its future or put it up for sale. The Spanish owners say they would be open to offers.
The airport has announced a new operations director.
But it has not given any further details of how and why Mr Duffy, who joined the airport in 2008, left his post.
The airport has appointed a former RAF group captain as its operations director.
Debra Barber joined the air force in 1984, with 10 years experience as an air traffic controller before retiring as air traffic management force commander, responsible for all RAF air traffic units in the UK and around the world.
Ms Barber has also had commercial roles at Basrah International Airport in Iraq and has been involved in military air traffic organisation for the volcanic ash crisis in 2010, and in preparations for the London 2012 Olympics.
The airport said she would be a "key part" of the airport's executive team, with responsibility for the operation and continuing development of Cardiff Airport.
"I am absolutely delighted to join Cardiff Airport at this important time in its history," Ms Barber said.
The airport has lost nearly a 800,000 passengers since its peak 2007.
'Nobody is satisfied'
First Minister Mr Jones had criticised owners Abertis for delays in a £26m investment plan and has said the airport gives a bad impression of Wales and is falling behind its rivals.
He told BBC Wales's Week In Week Out programme on Tuesday that taking a stake would allow the Welsh government to invest.
Mr Jones said he had been in talks with potential buyers interested in a public-private partnership.
The Welsh government has offered to fund £5m towards an investment programme at the airport.
Ireland-born Mr Duffy had joined the airport four years ago after being managing director of the Royal National Lifeboat Institution's sales division.
A Welsh government spokesperson described his departure as an internal personnel matter for airport owners Abertis.
"However, we have consistently made our position on Cardiff Airport clear.
"We want to see it grow and become world class. Nobody is satisfied with the current situation," added the spokesperson.