Louis the dog sounds panic alarm for disabled Wrexham owner after accident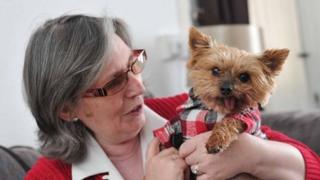 A dog has been branded a hero after he raised the alarm when his disabled owner collapsed.
Louis, a nine-year-old Yorkshire terrier, pressed the panic button belonging to Victoria Shaw, 58, when she fell getting out of the shower.
Mrs Shaw, who suffers from glaucoma and arthritis, said she had shown Louis how to press the button in the past.
Wrexham Council's Telecare workers alerted paramedics, who rushed to the house to find Louis barking for help.
"He's just a pet but I've been training him to hit the button just in case, but it's always been just a bit of a game," said Mrs Shaw, who has owned Louis for two years.
"This is the first time he's done it for real."
'Right beside me'
Mrs Shaw, from Rhosymedre, Wrexham, twisted her leg and passed out after bumping her head during the accident on Sunday.
She broke her glasses during the fall and is unable to see well without them due to her eye condition.
Louis reacted when he saw his owner in difficulty and sounded one of the emergency panic buttons in the house.
When Chester Telecare workers asked who sounded the alarm, his proud owner replied "it must have been Louis."
"He must have thought 'this is not a game this is for real', and hit the panic button," added Mrs Shaw.
"He was right beside me, right in my face, he wouldn't leave me.
"He's not only my best friend and companion, but my soul mate. I can't bear to be without him because of the things that he does for me."