NHS report warns hospital services in danger of collapsing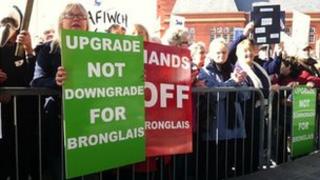 Some hospital services are in danger of "collapse" unless radical changes are made to the NHS, a report says.
The NHS Confederation Wales document suggests centralising clinical experts to improve services in some cases.
Recommendations include fewer obstetric units and fewer in-patient paediatric units in future.
The report also suggests centralising major trauma services can improve survival rates.
The report's author, health economist Prof Marcus Longley, said while the NHS had improved over the past decade, "difficult decisions now need to be taken" about continued changes.
Prof Longley of Glamorgan University's Welsh Institute for Health and Social Care, outlines which services could be centralised.
The report says "the case is really quite strong, in Wales as elsewhere in the UK, that some acute hospital services should now be reconfigured... on the positive side, Wales' hospitals could provide better care in some key respects, reducing the risks of unnecessary disability and even death.
'Pressure'
'"More negatively, the pressure on the availability of key medical staff in a small number of specialities is now so great that the collapse of some services is likely."
The report does not name specific units and services that should be closed.
It notes the evidence does not always point to clear answers, and invites readers to make up their own minds.
It suggests Wales is likely to see fewer obstetric units and fewer impatient paediatric units in future.
Centralising major trauma services can improve survival rates, it suggests
The Welsh government endorsed the research when it was shown to ministers in March.
The cabinet is planning a strategy of "unambiguous and direct" language about the dangers of continuing with the current configuration of services.
It will launch a publicity offensive to defend the changes in the face of opposition from the public and some health staff.
Doctors will play a more active role in explaining the reasons for changes and proposals will be described "in terms of their benefit and gain", cabinet papers say .
Local health boards (LHBs) are due to unveil their own plans this month.
Formal consultation on LHBs' proposals will take place over the summer with final plans expected to be approved and implemented from August onwards.
Campaign groups have already protested against what they see as the downgrading of local hospitals.
Ministers have promised to take the flack for unpopular changes, and insist they are not planning to close or downgrade district general hospitals.
The Conservatives said the report laid bare the "perilous" state of the NHS and that LHBs were forced to look for cuts because of a lack of funding from the Welsh government.
Although it has maintained health funding, Labour has resisted Tory calls to increase the budget in line with inflation, saying it would force deeper cuts elsewhere.
Shadow health minister Darren Millar said: "It shows a worrying outlook for district general hospitals particularly in rural areas.
"Patients should not have to travel further for life-saving care."
'Unpopular'
NHS Confederation Wales director Helen Birtwhistle said there were "some difficult and potentially unpopular decisions ahead".
"As the report says, there is an urgent need for us to change our hospital services if we are to provide a high-quality and safe health service, comparable to the best anywhere," she said.
Health economist Ceri Phillips of Swansea University said the NHS was facing financial pressures which mean it must deliver more with the same or fewer resources.
"But also we've had enough evidence to suggest some of the procedures, some of the way we do things, are not particularly safe and they do compromise quality," he added.
"When you are only operating on one patient a week, for example, that doesn't make you the best surgeon."
While some services need to be centralised, Prof Phillips told BBC Radio Wales that others could be delivered outside hospital in the community.
He added: "It's swings and roundabouts. We will see some people having to travel further, but for some people - and quite a lot of people - more of their care can be delivered closer to where they live."