Marina and the Diamonds top the album chart with Electra Heart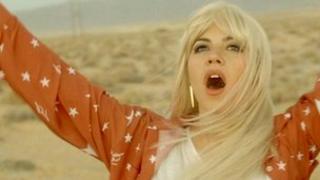 A Welsh musician has topped the UK album charts with her second album.
Marina and the Diamonds - stage name of Marina Diamandis from Abergavenny - hit the number one spot with Electra Heart in its first week of release.
"Electra Heart is No 1 in the UK. It means the world to me," she told her fans in a message on Twitter.
The album's success is welcome news for the 26-year-old star, who recently had to postpone a UK tour on doctors' orders to rest a damaged vocal cord.
Described as "a Greek Kate Bush", Marina was named as one of the up-and-coming stars to watch in the BBC Sound of 2010 list.
Her debut album The Family Jewels, released that year, was critically acclaimed.
Marina postponed a subsequent US tour, claiming her record company there had done little to promote her music.
But she admitted her theatrical brand of pop may have been difficult to promote in a market dominated by dance music.
Marina says the new album is based on a character that represents the darker side of American suburban life.
Her UK tour was due to begin in London last Thursday, and included a sold-out date at Cardiff's Coal Exchange on 27 June.
The gigs are due to be rescheduled for a later date.