Paramedic and technician struck off they 'did not do job'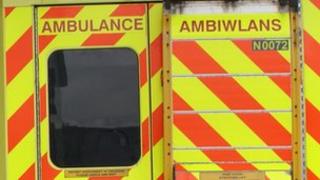 A Welsh ambulance paramedic and a technician have been struck off, after a misconduct hearing ruled they had "simply failed to do their job".
The hearing in Cardiff found that the pair had falsified records about a 999 call to a female patient who died the following day.
The Health Professions Council (HPC) found both David Glover and Michael Davies guilty of misconduct.
Another paramedic John Bladen, was cleared by the panel.
During the four-day case, the HPC panel heard that Mr Glover and his ambulance technician, Mr Davies, had been called to the home of a woman only named as patient A.
The woman had been suffering a stomach complaint and had a history of ill health, including a brain tumour as a teenager, sight problems and diabetes.
But the hearing was told that Mr Glover failed to examine and respond to the patient's condition, and then colluded with Mr Davies to fill out the patient record form after learning she had died the following day.
'Refused treatment'
It was also claimed that Mr Glover behaved by standing with his hands in his pockets and was "focussed on stating that a patient should not or could not be conveyed to hospital" during the 999 call.
Mr Glover had "strongly disputed" the allegations against him, including that he had refused to give the woman oxygen twice after she asked for it.
But following the woman's death and complaints from her family, discrepancies in the patient record were uncovered.
Mr Glover and Mr Davies claimed the records had been completed at the patient's home, but her parents insisted they had not seen any paperwork.
The disciplinary panel said that they found the woman's father to be a "truthful, accurate and reliable" witness in contrast the ambulance workers who they found "unreliable, evasive and untruthful".
The panel chairman, William Nelson, said that the most likely series of events on the night in question in May, 2007, were that after receiving the 999 call, the ambulance team attended but after hearing of a history of stomach illness assumed wrongly that it was nothing serious and did not need to be assessed in hospital.
False accounts
Mr Nelson said the actions of the men were not malicious, but they had "simply failed to do their jobs".
He added that the HPC panel felt the misconduct was "at the most serious end of the spectrum".
Mr Nelson added that for the last five years, patient A's parents had lived not only with their grief but also with the knowledge of the false account of the night made by Mr Glover and Mr Davies.
A police investigation into Patient A's death was carried out between January 2008 and March 2009, but no charges were brought against anyone.
A Welsh Ambulance Trust investigation also found there was no case to answer.