Fruit and vegetable community co-ops rise to 350 in Wales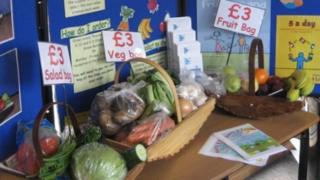 The number of community-run fruit and vegetable co-ops run by volunteers in Wales has risen to more than 350.
A report on one Welsh government-funded umbrella group said by 2011 it helped set up 280 supplying 10,000 customers with locally-grown food.
The Rural Regeneration Unit (RRU) in Wrexham says more have since started, run by more than 2,700 volunteers.
In Wrexham, for example, there are at least seven food co-ops supplied by a local farmer.
But the true number of groups across Wales is not known as they can be set up and run independently.
One such group is Roots and Fruits, which has been operating at Wrexham's Caia Park housing estate for the last two years.
As well as getting fruit, salad and vegetables from a local farmer, an estate gardening team of 15 volunteers grows food for a nearby day care nursery, older people's day centre and cafe.
If the gardeners produce a glut it is put in with food co-op customers' veg bag orders.
Volunteer support worker mentor Caroline Harry said the co-op and gardening schemes brought the community together.
"They show community involvement, that people don't need to spend a fortune to eat healthily and it is sustainable living," said Mrs Harry, from Caia Park Partnership.
The community food co-operative programme began in 2004 with a small pilot, the same year a report showed only 41% of people in Wales ate a recommended five portions of fruit and vegetables a day, according to the Welsh government website .
Some food co-ops also sell eggs and meat via over 400 suppliers in Wales, according to the RRU, although 80 are regular suppliers.
One supplier is Huson Farm in Hawarden, Flintshire, which grows a lot of its own seasonal fruit and vegetables and acts as a wholesaler offering other produce.
Alan Huson, whose family has been at the farm for four generations, said food co-ops have become successful due to their community ethos.
"It's a community thing, bringing people together," he said.
Volunteer co-ordinator Shirley James agreed with the sentiment.
She helped to set up her group in March with fellow residents at Plas Hyfryd, a group of flats with extra care facilities operated by United Welsh Housing Association (UWHA) in Caerphilly.
Ms James said the scheme has been a success with between 25-30 weekly customers because produce is delivered to residents, some of whom have difficulty in getting out.
She said residents used the collection time as an opportunity to meet up and have a coffee and a chat, and it also saved them money.
Meanwhile, in Gwynedd, Bangor Veg Co-op relaunched at Maes Glas Sports Centre late last month.
It was originally set up by Dr David Shaw, director of research at Bangor University's Henfaes Research Farm in Abergwyngregyn.
Now it has been taken over by volunteers, including Jamie Stroud, a PhD student at Bangor University, and Stephanie Johnson, who works for Action on Hearing Loss Cymru in Bangor.
"It's so important to support local producers - to reduce your carbon footprint, and to create healthy, sustainable communities," said Ms Johnson.