Bovine TB: Prof Chris Pollock quits over badger cull U-turn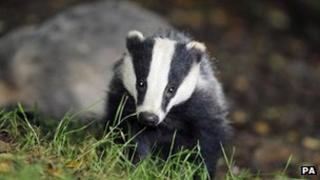 A scientist advising on bovine TB has resigned over the Welsh government's reversal of a planned badger cull.
The Welsh government confirmed the resignation of Prof Chris Pollock from its TB eradication board.
Last month, a planned pilot cull in west Wales was dropped in favour of vaccination, which the chief vet called a "perfectly reasonable approach".
Prof Pollock said he was not confident vaccination would work and "had no option but to resign".
The previous Labour-Plaid Cymru coalition Welsh government had planned the pilot cull.
However, Environment Minister John Griffiths revealed last month that the now Labour-run Welsh government was scrapping the plan.
A five-year vaccination programme will instead start in the intensive action area - the TB hotspot in north Pembrokeshire where the cull was planned.
The change of plans was described as a "cowardly betrayal" by the Farmers' Union of Wales, while the RSPCA said it was "delighted and relieved".
Prof Pollock is a former director of the Institute of Biological, Environmental and Rural Sciences in Aberystwyth, and a former acting chief scientist.
After resigning from the TB Eradication Programme Board, he told BBC Wales the approach by the coalition government "was appropriate".
"It was based on a rigorous testing regime, proper biosecurity on the farm, movement restrictions and tackling the disease in the badger populations," he added.
He said the vaccination of badgers "has never been tried on a large scale" and only on a theoretical basis in labs.
'Considerable contribution'
"I didn't have enough confidence that it would work and consequently I had no option but to resign," he added.
In an interview with the Farmers Guardian , Prof Pollock added: "Vaccinated infected badgers can live for several years and continue to spread the disease.
"It does not stop them being carriers and as such I am not convinced this is a change for the better."
A Welsh government spokesperson said: "The environment minister accepted Prof Pollock's resignation from the TB eradication programme board with regret and thanked him for his considerable contribution."
At the time of the announcement of the vaccination programme, Wales' chief vet, Christianne Glossop, said: "There is no trial data to show that vaccinating badgers will make a difference on cattle herd breakdowns but it is a perfectly reasonable approach and there's no reason to assume that it won't work.
"We just have to try it."