Carrier bag charge: Asda, Tesco and John Lewis donations boost charities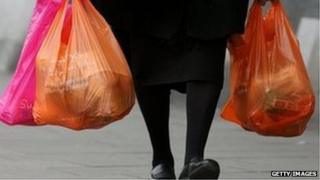 Charities in Wales are beginning to benefit from donations raised as a result of charges on carrier bags.
The 5p charge, introduced on 1 October 2011, encourages retailers to donate profits from bag sales to good causes.
Supermarket chains Tesco and Asda have each donated over £100,000, while environmental charity Keep Wales Tidy will receive money from 46 companies.
Some retailers have reported a 90% fall in the use of carrier bags since the 5p charge was introduced.
The Welsh government introduced the charge to clamp down on the "excessive use" of single use bags, with shoppers across the country taking home an estimated 350m carrier bags from the major supermarkets in 2009.
Tesco, which agreed to donate the full 5p of every bag sale to RSPB Cymru, hopes to eventually reach £300,000.
The charity said Tesco's support was "crucial" and the money would ensure people could enjoy wildlife and nature across Wales.
Some of the money has been spent on developing the charity's nature reserves in Carngafallt near Rhayader and on a second reserve in Conwy.
Katie-jo Luxton, RSPB Cymru Director said: "Nature is in trouble and money to drive our conservation work is getting harder and harder to find. This welcome support from Tesco and its customers will allow us to work on vital projects to benefit Welsh wildlife which we would otherwise not have been able to afford."
Keep Wales Tidy has so far received £5,744 from High Street retailer John Lewis, which also donated the full 5p charge to a single charity.
Local causes
Two projects have been funded with some of the money raised so far, including a habitat improvement project where John Lewis staff helped improve a pond with local residents from Splott.
The charity has received a total of £6,641 from 11 retailers, with a further 35 including Argos, McDonalds and Homebase yet to submit their donations.
A Keep Wales Tidy spokesperson said: "The charge donated to Keep Wales Tidy can be spent on environmental improvement projects. The reduction in carrier bags will also benefit wildlife and nature, and reduce litter levels."
Asda decided to split income from bag sales across a range of causes and will have donated over £136,000 to local causes by the end of May.
The company asked staff and customers to help it decide how to split income from the 5p charge amongst good causes.
Wales Air Ambulance and mental health support charity Llanelli Mind will each receive over £6,000 from Asda, while £5,500 will go to South Glamorgan Special Baby Care Unit.
Arcadia Group, which owns high-street stores such as Topshop, Burtons and Miss Selfridge, will send a share of its bag sale income to children's charity Ty Hafan later in the year.
The charity - which needs £3m a year to offer free support services to children in Wales - said the donation would be a "much welcomed" contribution.
Elsewhere, the Co-Operative Group estimates its bag sales will deliver over £100,000 to environmental projects across Wales.
Supermarkets have issued substantially fewer single use bags since the 5p charge was introduced, according to figures obtained by the BBC earlier this month.
Sainsbury's saw a 90% fall in their usage, the Co-op reported 86% and Morrisons 60%.
Details of some of the charities to benefit from the levy came from a Freedom of Information request to the Welsh government from the BBC.
The Welsh government also revealed it had received a total of 12 complaints relating to the carrier bag charge through its formal customer complaints policy.
Complaints include the charge itself, customers being charged for bags for food, the types of bags subject to the charge and whether retailers are following the regulations.
Eleven of the complaints have been received since the introduction of the charge.
The Welsh government also says that as far as it is aware, no businesses have been subject to fines or warnings for failing to comply with the regulations.