Ched Evans: Rape case Twitter arrests warning by police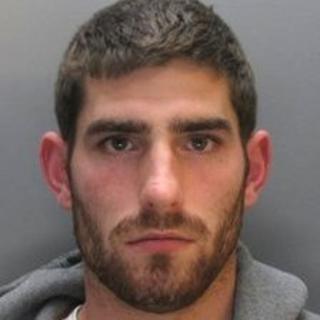 Police have warned arrests will be made following comments on Twitter which allegedly identified the victim in the Ched Evans rape case.
North Wales Police said it wanted to issue a reminder that the law gives victims of rape and other serious sexual offences anonymity for life.
The Home Secretary has voiced her "considerable concern" over the matter.
Meanwhile Sheffield United have suspended a team-mate of Evans over alleged tweets after his jailing.
But there is no suggestion the player had identified Evans' victim.
In a statement released on Tuesday afternoon North Wales Police warned that anyone publishing the identity of a victim of rape, or other serious sexual offences, would be subject to investigation and possible criminal proceedings.
Assistant Chief Constable Gareth Pritchard said the force would "seek to ensure that the legal anonymity of victims in rape cases under the Sexual Offences (Amendment) Act 1992, is protected and those who commit offences in this regard will be brought before the criminal justice system."
He added: "We wish to reassure victims of serious sexual offences of our continuing determination to support them."
Earlier, while taking questions on a number of issues at the Home Affairs Select committee, Home Secretary Theresa May said the issue needed to be considered "very carefully".
She was asked by Bridget Phillipson, Houghton and Sunderland South MP, whether she thought current legislation allowed the police to deal with such matters "with the utmost seriousness".
'Technology advances'
Mrs May replied: "It is a topic of some considerable concern.
"This is something we must look into and consider very carefully... It is another example of how, as technology advances and communications advance, we see people using those in ways like this - we obviously have to say are we keeping up with our ability to deal with that?"
On Tuesday morning Sheffield United revealed it would investigate apparent postings on reserve team player Connor Brown's Twitter account.
The club said said Brown had been suspended with immediate effect but there is no suggestion the player had identified Evans' victim.
Evans, 23, was jailed for five years on Friday for raping a 19-year-old woman in Rhyl, Denbighshire.
Evans admitted having sex with the victim at a hotel in north Wales last May but said it was consensual.
The woman said she had no memory of the incident and the prosecution successfully argued she was too drunk to consent to intercourse.
Port Vale defender Clayton McDonald, 23, who also admitted having sex with the victim, was found not guilty.
Meanwhile, Sky News has issued an apology after it briefly revealed the victim's name during its television coverage of the story.
In a statement, Sky News said: "In our coverage... we very briefly revealed the victim's name despite heavy redaction, and if watching in real-time viewers would not have noticed.
"We would, however, like to apologise to the victim and her family for any distress caused."