Conservative MP Glyn Davies' referendum call over Lords plan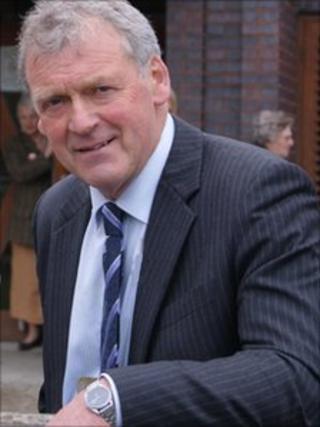 A Conservative MP has called for a referendum over plans to replace the House of Lords with elected members.
Proposals to be unveiled on Monday are expected to recommend that the upper house be replaced by a second chamber of mostly elected members.
Montgomeryshire MP Glyn Davies said the move could hugely alter the way Britain was governed, adding that it should not proceed without a referendum.
The plans form part of the Conservative Lib Dem coalition agreement.
Ministers want to introduce a wholly or mainly elected upper chamber and the Lib Dems want firm proposals to be in next month's Queen's Speech.
The former Labour leader of the Lords, Ivor Richard, has chaired a joint committee of MPs and peers, and will unveil details on Monday morning.
But some Conservatives oppose the move.
It is thought that just one Tory MP backed the idea at a meeting of the backbench 1922 Committee last Thursday.
On Friday, it was reported that Prime Minister David Cameron was "committed" to House of Lords reform, despite the prospect of a rebellion by his own MPs.
Meanwhile, Labour says it favours an elected Lords but wants a referendum on the issue.
MP Mr Davies, speaking on Sunday Supplement on BBC Radio Wales, said: "I think we should be prepared to go forward with it (the proposals for change).
"Personally, I'd be very committed to there being a referendum.
"It's a huge change in the way we govern Britain, not just the House of Lords, it's about how we run the House of Commons as well.
"I don't think we should go forward with that without a referendum at the least."
The former leader of the Welsh Liberal Democrats and South Wales East AM, Lord German, was not convinced by Mr Davies's argument for a referendum.
'Basic legitimacy'
He said: "After all we are proposing major changes for Scotland at the moment, which are not going forward with a referendum on the fiscal responsibilities for Scotland.
"What is proposed here is not going to the alter the arrangements that are between each house."
He added: "I think the time has come when the people who make laws for our land should be elected by the people and represented by the people and not just appointed by party leaders and others, which I think is the basic legitimacy any parliament needs to have."
But Mr Davies said he thought the current system worked "quite well".
He feared there would be conflict if there were two elected parliaments, "competing for legitimacy".