Wales Coast Path: A walk on the wild side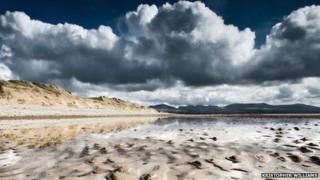 The Wales Coast Path officially opens on 5 May providing an uninterrupted 870 miles of stunning coastline for wildlife enthusiasts to enjoy.
The path encompasses two National Parks, 11 National Nature Reserves and dozens of Sites of Special Scientific Interest (SSSIs).
The idea of a coast path was developed from a desire to build on the economic success of the Pembrokeshire Coast Path National Trail and the Isle of Anglesey Coastal Path. Plans were first unveiled for the project six years ago.
Since then, the path has been developed by the Welsh government in conjunction with the Countryside Council for Wales, 16 local authorities and two national parks.
The whole path will be accessible to walkers and some sections will also be suitable for cyclists, families, pushchairs, people with restricted mobility and horse riders.
BBC Wales Nature Producer, Martin Aaron took a look at the wildlife on offer along the 870 miles of coast path.
North Wales
The Dee Estuary is Wales' largest estuary for wintering birds with 120,000 waterfowl arriving each winter including rare pink-footed geese.
Gronant dunes are the site of Wales' only breeding colony of little tern and at Talacre there's a colony of rare, natterjack toads , which became extinct in the 1960s but were reintroduced in 2003.
The Welsh seaside town of Rhyl has become an unlikely spot for the rare snow bunting, which arrive from the Arctic during winter months and can be seen hopping along the sea front.
The Great Orme is a rare limestone and heath habitat supporting rare plants such as spiked speedwell and common rockrose - an important plant for the silver-studded blue butterfly, a sub-species only found here.
The area is also well known for its population of feral Kashmir goats, normally be found in northern India which descend from a herd originally given to George IV.
Crossing the Menai Straits into Anglesey, the RSPB reserve at South Stack on Holyhead with its towering Precambrian cliffs are home to some of the most important sea bird colonies in Wales.
During the breeding season up to 3,000 guillemots and 700 razorbills nest on the narrow ledges until July when the birds leave for open-ocean.
The heathland is full of colourful heather and among the rocky patches you'll find the rare spotted-rock rose with spatulate fleawort hanging from the cliff tops, found nowhere else in the world.
Cemlyn Bay has an internationally important breeding tern colony of common and Arctic terns and home to Britain's largest nesting populations of sandwich terns with up to 1,700 pairs.
Newborough Warren with its impressive sand dune slacks borders a forested area housing one of Britain's largest raven colonies which once numbered around 2,000 birds.
A short boat ride off the Llyn Peninsula lies Bardsey Island, which became a national nature reserve in 1986.
Long associated with religious pilgrimage, Bardsey is now home to 16,000 Manx shearwater which visit the island in spring to raise their young, before migrating to Brazil and Argentina for winter.
Mid Wales
The Dyfi Estuary, Ynyslas dunes and Cors Fochno at Borth all form part of an international biosphere reserve.
Cors Fochno is one of the largest and finest examples of a raised peat bog in Britain with an environmental archive spanning 6,000 years.
In 2011, osprey bred in the area for the first time in 400 years. The pair returned in 2012 and be seen at the Dyfi Osprey Project .
At Penderi Cliffs near Llanrhystud you'll find the 'hanging oak woodlands' where old, wind-stunted oak trees cling to steep-sided slopes.
Aberystwyth Pier has a large starling population, as featured on BBC Autumnwatch . During autumn 10,000 starlings take to the sky in an aerial display known as a 'murmuration' before settling down to roost.
Cardigan Bay is home to Europe's largest population of bottle-nose dolphin (300+ in summer) and one of only two semi-resident populations in the UK.
West Wales
The Pembrokeshire Coast National Park covers roughly a third of Wales and is Britain's only coastal park.
Three quarters of the UK chough population live in Wales and the best places to see them is on Ramsey Island , which also has the largest population of grey seals in southern Britain.
In summer, the protein-rich waters attract bottle-nose dolphins, Risso's dolphins, whales, orca, blue sharks and leatherback turtles which travel from the Caribbean to feed on jellyfish swarms.
In 2009, the Sea Trust filmed a 'super pod' of up to 2,000 dolphins swimming off the coast.
The islands of Skomer, Skokholm and Grassholm are best known for their seabird colonies of puffins and Manx shearwaters. Grassholm has the third largest colony of gannets in Britain, roughly 39,000 pairs.
Skomer Island is home to 10,000 pairs of puffins and up to 120,000 pairs of Manx shearwater, one of the largest breeding colonies in the world.
Carmarthenshire has a contrasting coastline, with freshwater and salt marshes, sand dunes, pine forests and coastal commons and the Loughor Estuary is a favourite amongst bird watchers.
Carmarthen Bay has an important population of the highly protected twaite and allis shad, members of the herring family which only breed in four Welsh rivers as well as river and sea lamprey .
The area is also the wintering ground for numbers of the internationally important, common scoter duck.
Gower became the UK's first area of outstanding natural beauty in 1956.
It is renowned for its complex geology in a relatively small area, with one of the most varied coastlines in Britain with carboniferous limestone, miles of sandy beaches, salt marshes and ancient woodlands.
Mumbles Pier has a 20 year old kittiwake colony , one of only a handful that exists on a man-made structure, giving you a bird's eye view of these rare gulls.
From autumn through to spring, up to 50,000 birds visit the Burry Inlet, stopping off at the National Wetlands Centre at Penclacwydd to feed in its lagoons and mud scrapes.
South Wales
Kenfig National Nature Reserve on the Glamorgan coast once formed part of a huge dune system, stretching from the River Ogmore to the Gower peninsula and contains many rare plants including the fen orchid , one of the most threatened plants in north west Europe.
Migrant wading birds including little ringed plover, little stint and black-tailed godwit arrive at Kenfig Pool in winter, the largest freshwater lake in south Wales.
Heading down the Bristol Channel, the woods at Porthkerry Country Park are home to the rare spotted gromwell.
Along the 14 miles of Glamorgan Heritage Coast you'll find remarkable geology between Ogmore and Rhoose Point with spectacular sandstone cliffs and even dinosaur footprints near Barry.
The RSPB Newport Wetlands Reserve has a variety of birds, mammals and moths such as the cinnabar and scarlet tiger moth during summer.
In spring, cuckoos can be heard along with colourful bearded tits, reed buntings, lapwings with waders probing the mud flats at low tide.
The Gwent Levels notable for its grasslands and ancient reens (drainage features) is also a stronghold for one of the UK's rarest bumblebees - the shrill carder bee .
Following the mud flats, the path continues along the banks of the Severn towards the River Wye with Chepstow Castle marking the end of the path but if you're feeling fit, there's a shortcut back to Prestatyn via the Offas's Dyke Trail trail - a mere 177 miles.