Wales unemployment: Extra 7,000 by end of summer - IPPR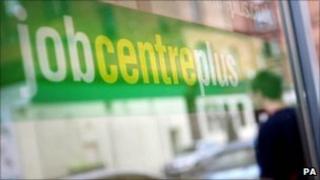 An extra 7,000 people in Wales will be out of work before summer ends, a left-leaning think-tank has claimed.
The Institute for Public Policy Research (IPPR) blames slow economic recovery, with more people out of work as public sector cuts continue.
Both UK and Welsh governments emphasise their efforts to tackle unemployment.
The Department of Work and Pensions said international prospects were difficult, but there were encouraging signs of labour market stability.
Richard Darlington of the IPPR said it had looked at forecasts published in the Budget, and examined how job losses affected the economy last year.
Unemployment in the UK is predicted to peak at 8.7% at the end of the summer.
"I'm afraid it's going to get worse before it gets better," said Mr Darlington. "And it's not going to get better for some time as well.
"The projection is that although unemployment will peak at the end of the summer it won't actually begin to fall until the end of next summer, 2013, and we're already suffering the longest recession in British history.
"This will be the slowest recovery ever, and I'm afraid that unemployment is going to lag and the jobs market is going to be worse. Even when the economy returns to growth, people will still be losing their jobs."
Mr Darlington said it would be a lot harder for young people if not for schemes put forward by both the UK and Welsh governments: the Youth Contract across the UK, and the Future Jobs Wales fund.
"But what we really need is for the government to support people who have been out of work for more than a year," he said.
"Long-term unemployment is the real worry, because once the economy does return to growth people who have been out of work for a year or more are going to find it really difficult to get back into work.
'Scarring effect'
"And unemployment can have a terrible scarring effect on people's mental health and their future prospects."
The UK government has begun its Youth Contract programme to get unemployed 16-24-year-olds into work or training.
In October the Welsh government announced a programme called Jobs Growth Wales, intended to create 4,000 jobs per year. Last week it launched its £75m Growth Wales project, aimed at creating 12,000 temporary jobs for unemployed 16-24-year-olds.
They will be offered six months being paid for at least 25 hours per week, with the Welsh government covering the cost of a minimum wage salary and the employer's National Insurance contribution.
Ministers said the scheme was aimed at encouraging employers to make the jobs permanent after six months.
Latest figures in March showed a slight rise in unemployment in Wales. In the three months to the end of January, the total went up 1,000 to 134,000, an unemployment rate of 9.1%.
The Welsh rate compares with a UK average of 8.4%, while unemployment on the year has risen by 10,000.
The IPPR predicts that the highest increases in unemployment across the UK will be north-west and eastern England, London, and Yorkshire and Humberside.
But it forecasts that other areas - the West Midlands, Northern Ireland and south-west England - will see a job recovery.
The Department of Work and Pensions said that while "the international economic outlook remains difficult... we will do everything we can to help the unemployed find jobs".
"There have been some encouraging signs that the labour market is stabilising, but there is clearly still a big challenge ahead to bring down unemployment," a spokesman said.
After the latest unemployment figures Welsh Business Minister Edwina Hart said the Cardiff Bay administration was "doing all we can as a devolved government to stimulate the economy to reduce the barriers businesses face, encourage demand and investing for the longer term".