St David's shopping centre in Cardiff reports record sales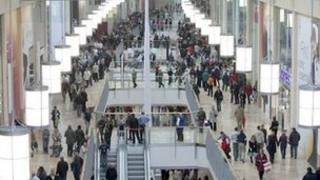 One of Wales' major shopping centres has reported record retail sales as business leaders say there are signs of encouragement after a difficult year.
St David's, which opened in Cardiff city centre in 2009, said sales were up 9% in 2011/12, with over 38 million visitors coming through its doors.
South Wales Chamber of Commerce welcomed the figures and said there was "cautious optimism" from members.
However, parts of Wales were still struggling to emerge from the downturn.
Graham Morgan, director of South Wales Chamber of Commerce, said: "I would say it's split into two dynamics.
"The centre of Cardiff seems to be getting a fairly solid support not only from south Wales, but with St David's, people from the south west of England visit," he said.
"That's a huge success and is having spin offs for the rest of Cardiff."
However, he said Newport had problems to confront and was finding it difficult being sandwiched between the major retail destinations of Cardiff and Bristol.
Earlier this year, it was revealed that Newport had Wales' highest shop vacancy rate, followed by Swansea and Rhyl.
But there was good news last month when plans to revamp part of Newport's shopping centre with the Friars Walk development were approved.
"Generally speaking it's the secondary [smaller] locations that are having a difficult time unless it happens to be a specialist shop, such as a specialist bike shop," said Mr Morgan.
"The general retailer in secondary locations, and particularly in some of the former industrial towns, is still finding it very, very difficult."
Tough year's trading
He said towns where confidence was relatively high included Monmouth and Abergavenny in Monmouthshire, Cowbridge in the Vale of Glamorgan, Llandeilo in Carmarthenshire and Narberth in Pembrokeshire.
"It certainly doesn't feel as gloomy as this time last year," he added.
St David's director Steven Madeley said some people had questioned why the centre had opened in the depths of the downturn, although the project took years to plan and build.
But he said it had continually grown and shoppers were now coming from as far afield as mid Wales, Worcester and Hereford.
"I'm absolutely delighted. I think it's a good result for a tough year's trading," he said.
"It's been achieved at a time when there are a lot of other things happening that are dragging the economy in the other direction."
Talking about the economy generally, he said he was cautiously optimistic the worst of the downturn was over.
In Wrexham, Eagles Meadow shopping centre manager Kevin Critchley said he was confident of another good year.
"The signs are again extremely positive in 2012 and we will soon be unveiling yet more new tenants within the next few weeks," he said.
"Among them is the growing Animal chain who will be creating 10 new jobs at their new store at Eagles Meadow which they're planning to open in time for the May Day Bank holiday.
"I'm expecting another three businesses to open soon."
In Swansea, the local branch of the Federation of Small Businesses last year issued a warning about the state of the city centre.
But chairman Julie Williamson, who runs two coffee shops and a takeaway baguette shop in the city centre, said there were signs of improvement.
"I think on the whole businesses have had a very difficult time, very trying, but I think we're hoping the challenging times are behind us," she said.
"We're hoping things will improve in the near future."
The Confederation of British Industry said sales on the UK high street were stable in the year to March, although retailers reported they were again disappointing for the time of year.