Mali coup: Welsh hotel owners tell of dramatic escape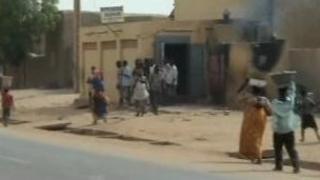 A Monmouthshire couple have spoken of having to flee their home in the West African state of Mali following a military coup.
Neil Whitehead and Diane English divide their time between Abergavenny and a hotel they own in the city of Timbuktu.
They escaped over nearly 1,000 miles (1,600km) of desert to neighbouring Mauritania after fighting intensified.
They were helped by African soldiers and nomadic militiamen arranged through the French and British Embassy.
Mr Whitehead told BBC Wales they had decided to leave the area, packing up their vehicle, after a nearby town fell the day before.
"Everything seemed fairly quiet and normal. People were waving to us, they knew we were leaving," he said.
'Hearts in our mouths'
"We got on to the road out of town when, rather suddenly, we drove into a gun battle.
"We did not know who was firing at who so we thought we best get out of here.
"So we turned round with our hearts in our mouths and headed back into town and the house.
"We did not know what was going on. We assumed the rebels had come into town."
On Sunday they arranged through the French and British Embassy to ask the rebels to take them to safety.
"Heavily armed guys" collected the pair and loaded them on a truck to an overnight camp along with 14 fighters and then they continued driving through the next day and night to reach safety
Mr Whitehead and Ms English own the Hotel Alafia on the edge of the Sahara desert and were running it with their team of local staff.
Information for tourists on the hotel'swebsitereads: "The hotel is surrounded by high walls with double gates, which are locked at night, and a member of staff is on hand at all hours.
"However, crime is not a particular issue in Timbuktu and the owners have always felt safe in the town and elsewhere in Mali."
But the military coup that deposed Mali's president last month led to a deterioration in security, prompting the couple to flee.
Mr Whitehead says he does not yet know whether he will ever return.
A Foreign Office spokeswoman said: "Given the ongoing political instability in Mali, the Foreign Office is advising against all travel to the country and is recommending that all British nationals currently in the country should leave now by commercial means."