Michael Sheen's Passion event marked in Port Talbot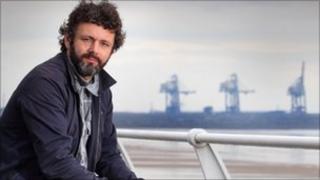 One year after 1,000 people staged a reenactment in Port Talbot of Jesus's journey to the cross, negative attitudes to the town have changed, says the town's canon.
Canon Nigel Cahill said the Passion production, which starred Michael Sheen, was talked about every week.
Sheen played the Christ-like character in a 72-hour production at multiple locations around his home town.
He will attend a multi media exhibition about the production this Easter.
Held at Aberafan Shopping Centre, photos and films taken by people at last year's show at Port Talbot will go on display.
Canon Cahill said the impact of the National Theatre Wales production last year was still being felt in the town.
"Everyone has stopped being negative," he said.
"And that's one of the lasting features.
"It is as if they have been allowed to vent their negativity.
"Every week someone talks about Passion."
The Passion, written by Welsh poet and novelist Owen Sheers who is also attending the exhibition which is held on Good Friday, Saturday and Easter Sunday, mirrors the story of Jesus's journey to the cross.
BBC Wales is showing programmeslooking back at the event.
This year, similar enactments are being in other communities around Wales, including Barry and Wrexham.
The Archbishop of Wales, Dr Barry Morgan, will lead a two-mile (3.2km) "walk of witness" through the streets of Barry on Good Friday.
And members of Wrexham Churches Together (Cytun Wrecsam) network will hold enactments outside town centre landmarks, including Wrexham Museum, the former Marks and Spencer building, the Wynnstay Arms Hotel and Eagles Meadow Shopping precinct.
Sheen, who is returning to his home town for the second event, said: "I started to think about how we could do something together a year on.
"To mark it in some way, for those who wanted to.
"To remember what we shared.
"And to celebrate something that was in many ways, unforgettable."
More than 1,000 local residents also took part in the National Theatre Wales production.
It began at 0530 BST on Good Friday 2011 with a seafront scene, inspired by John the Baptist's baptism of Jesus, which was watched by hundreds who had heard about it by word of mouth.
By the time the first main part of the play was performed on Aberavon Beach at 1500 BST, organisers estimated up to 6,000 people had gathered to watch.
Sheen said: "As the original story of The Passion had many different versions, many different depictions of the same events, all the various gospels, so too did the events in Port Talbot last Easter.
"The mobile phone cameras were everywhere. Each one recording its own gospel.
"There's a book about it, documentaries, a feature film, sound recordings, paintings and interviews.
"We want to bring it all together for an exhibition this Easter, one year on."
Canon Cahill said while there had not been a big change in the numbers of people visiting church since the event, he felt in a wider sense that people were more willing to talk openly about faith.
Sheen, known for his screen portrayals of figures such as Tony Blair, David Frost and Brian Clough, has said he was inspired by the community spirit of the Passion plays he watched at nearby Margam Park as a youngster.
A film premier, The Gospel of Us, takes place at Apollo Cinema, Port Talbot, on Sunday at 20:00 BST.